Searching for a maternity wardrobe as a plus-sized mama is enough of a pain in the butt without adding the extra hurdle of finding clothes that don't require you to dip into your unborn child's college fund to pay for them. Good news, though! Many brick and mortar stores and online retailers have finally caught onto the fact that pregnant bodies come in a variety of sizes, and have started offering stylish plus size pregnancy clothing at prices you can actually afford. So search no more – we've rounded up 8 of our favorite places to get inexpensive maternity clothes to show off your bump comin' in hot.
Side note: While these companies have maternity wear dedicated to fuller body types they often show images from their regular line (which is why some of the models below aren't plus size).
Best Places to Find Cheap Plus Size Maternity Clothes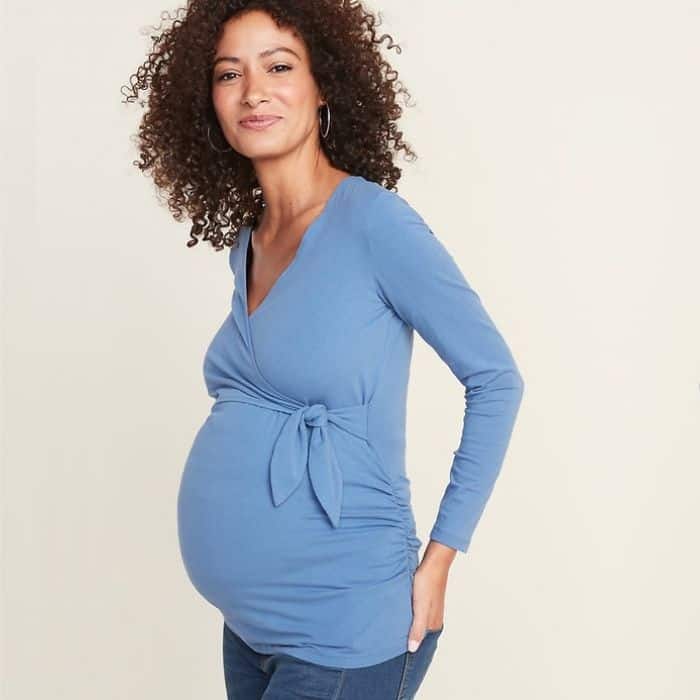 Old Navy's clothes are cheap to begin with – add to that the fact that they often have discount coupon codes (either on their website or by signing up for their mailing list) and you're set to fill your closet with new maternity clothes you won't mind opening up your wallet for. Sizes go up to 2X in everything from leggings and activewear to sleepwear, swimwear, and all of the regular stuff, like tank tops, t-shirts, dresses, sweaters and jackets. You can shop online here.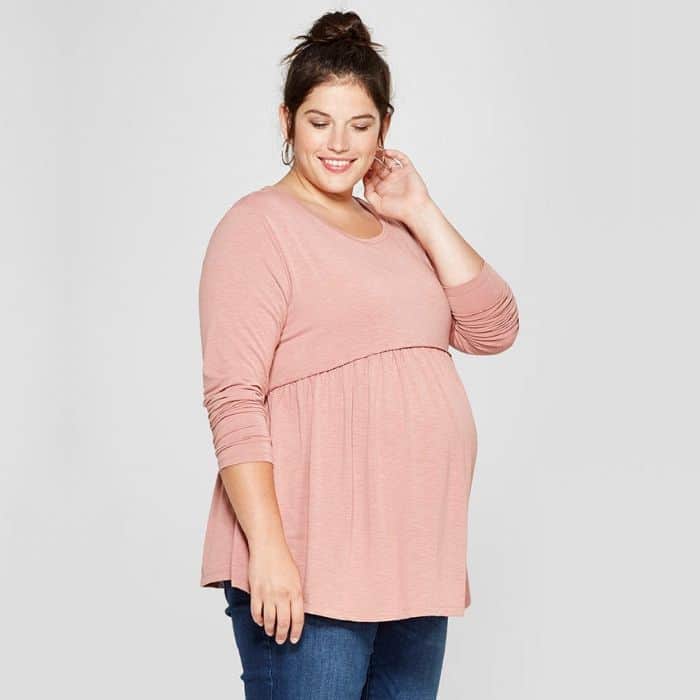 In case you needed any excuse at all to shop at Target, they've got maternity styles in their "Women's Plus" section in sizes up to 6X. Jeans, shorts, tees, tanks, leggings, dresses, swimwear, pajamas and more are all available to fit your entire pregnancy at everybody's favorite store! You can shop online here.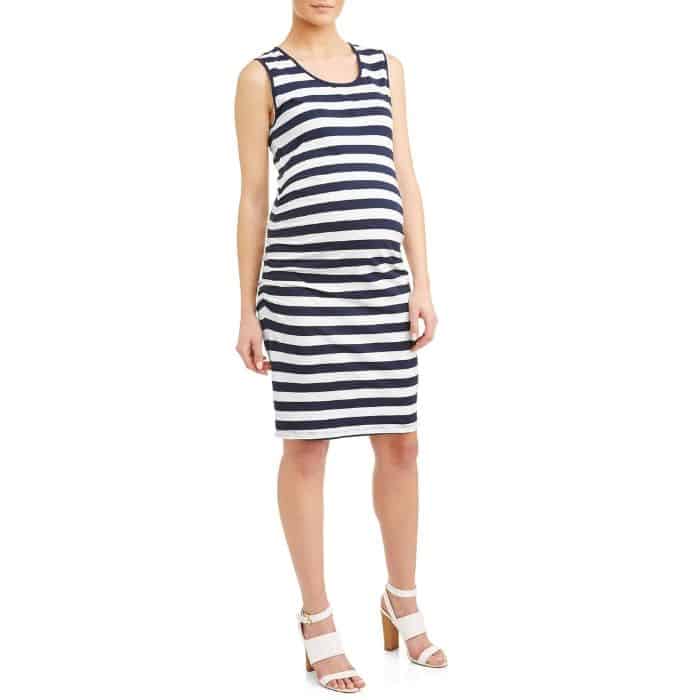 Could we make a list of cheap maternity clothes and not include Walmart? Most maternity items at Walmart are available in sizes up to 3X, and the styles are pretty cute, TBH. Whether you're looking for basics like graphic tees, leggings, shorts, pants, pajamas, or jackets, Walmart has you covered from your first to the third trimester and beyond. You can shop online here.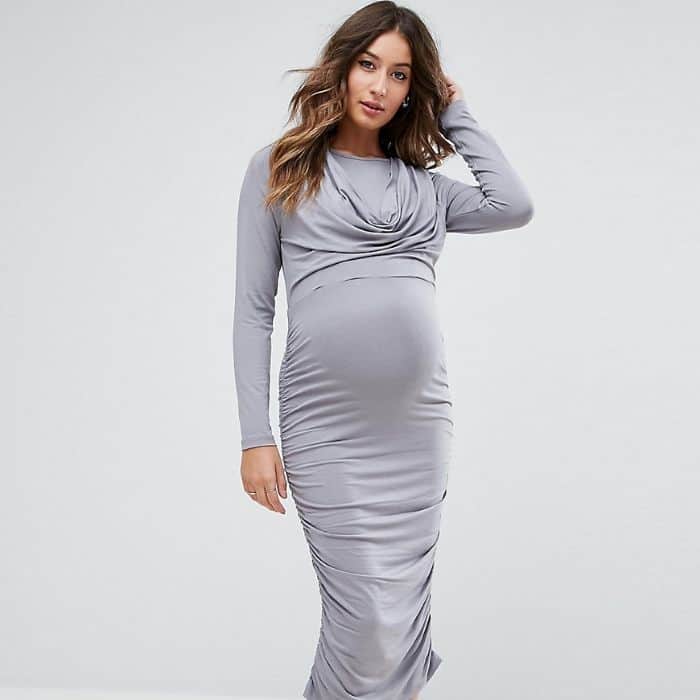 ASOS carries some seriously stylish maternity wear that's almost cute enough to make me wish I was pregnant again so I could wear them too (ok, maybe I'm exaggerating a little). Many styles come in sizes up to US 16, and with over 1500 different maternity items, there's a good chance you'll find something to fall in love with. If you order clothes using the ASOS app, you can save yourself an extra 20%. You can shop online here.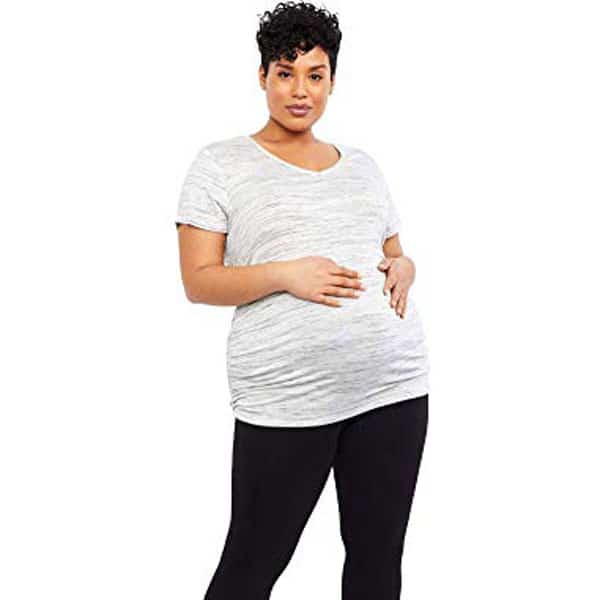 You know what's better than maternity clothing at an awesome price? Maternity clothing purchases that show up on your doorstep in like two days or less (with free shipping) while you kick up your swollen tootsies and lay on the couch. You'll have to check the sizing of different items to see what's available, but I've seen some pieces that go up to 5X. You could throw some last-minute nursery decor/laundry soap/diapers into your cart and have everything sent in the same order. This one's a no-brainer. You can shop online here.
Few things will make you want to rip out your beautiful pregnancy mane like scouring maternity wear sites for hours and then discovering that the size of your perfect maternity outfit isn't in stock (or never actually existed in the first place). That won't happen at PinkBlush. They've got an entire "Maternity Plus" section on their site, so you know that every single item starts at an XL and goes up to 3X. There's a ton of gorgeous styles of midi and maxi dresses, shirts and blouses, pants, denim, outerwear, swimwear and more. I love that you can search outfits based on features like occasion, neckline, detail, material and more. Got a wedding or baby shower coming up? No problem. Have a certain fabric you adore? Easy peasy. Don't forget to check for promo codes – they often have them available for great savings. You can shop online here.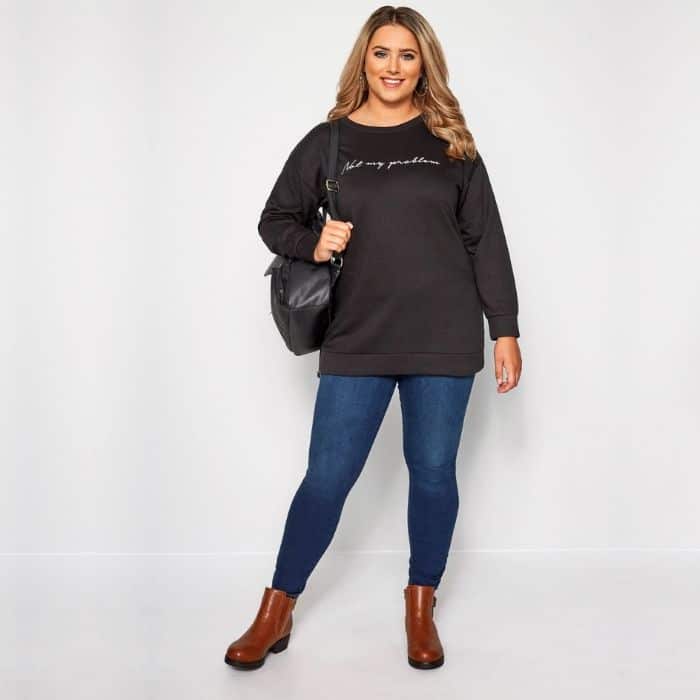 Yours Clothing has maternity wear with features like stretchy material and nursing capabilities for moms up to size 30. Cardigans, dresses, maternity leggings, skirts, jeggings, maternity jeans, swimsuits – EVERYTHING has been made for ladies starting at US size 14 and up. While their Sale section isn't huge, everything in there is super cute and super cheap. You can shop online here.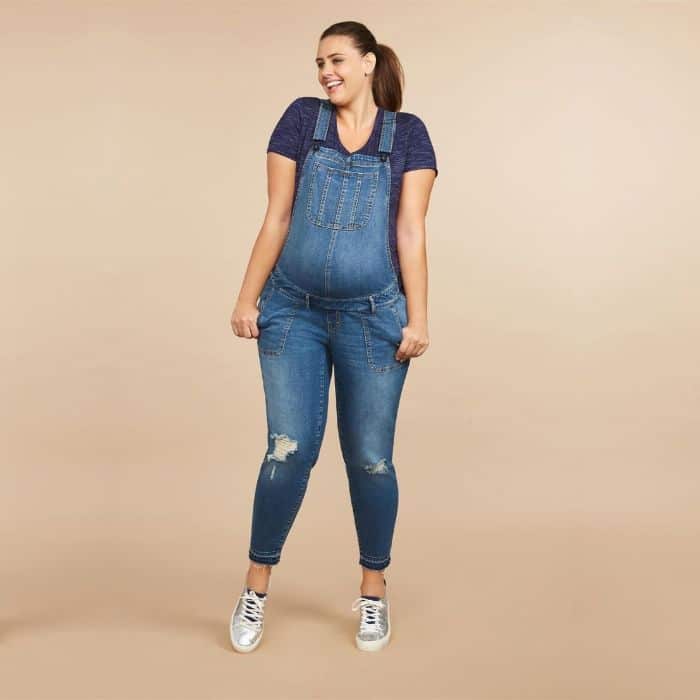 Motherhood Maternity has an entire section of their website dedicated to Plus Size maternity clothing, which means you can see exactly what's available (in sizes up to 3X), and you get the bonus of actually seeing the pieces on plus-size models, so you know how they fit. This should be one of your first stops whether you're in your first trimester or postpartum for outfit staples including bras, undergarments, easy access nursing tops, dresses, jackets, joggers and even accessories like belly bands, pregnancy pillows and compression socks. Motherhood Maternity also has great savings on many of their pieces! You can shop online here.
What are your favorite stores to buy cheap plus size maternity clothing from?
Have you tried any of our suggestions or do you have some other great ones to share? We'd love to hear about them in the comments!

Our next reco: Best Places to Find Nursing Bras in Larger Sizes

---
Get posts & giveaway updates delivered right to your inbox
---
---