If you're wondering what to do about the whole bathing suit situation, let me start by saying you don't have to buy a bathing suit that is specifically maternity. If you are rocking a two-piece, aren't that far along, or you aren't carrying that large, there's no reason why you can't wear a regular suit. However, don't make the same mistake I made and assume that because a bathing suit stretches it will fit your pregnant body. You might have to be cut out of it with the jaws of life – imagine a sea lion wearing a sausage casing – so know your limits.

If your old suit just isn't gonna cut it this summer, we've rounded up a list of our favorite spots to snag one so you can hit the beach (or the kiddie pool) faster than you can say "I didn't know it was humanly possible to sweat this much".
The Best Places to Find Maternity Swimwear: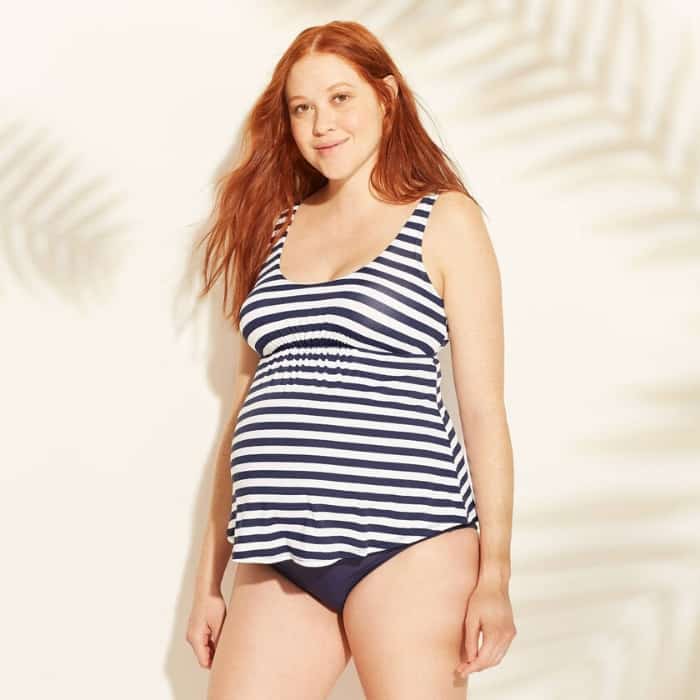 Let me be the first to say that the maternity swimsuits at Target are so fun I might get pregnant just so I can wear one. Okay, that might be a bit of a stretch, but check them out and tell me I'm wrong. They've got a variety of styles in sizes and silhouettes from S to XL, including one pieces, maternity bikinis, maternity tankinis and more, and they come in a ton of super cute prints. Best of all, the prices are totally reasonable. Shop Target here.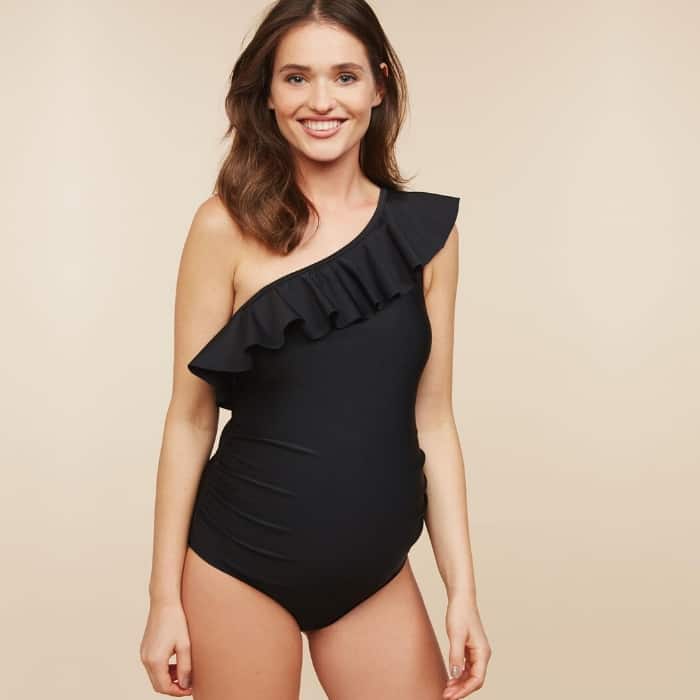 Motherhood Maternity has several sweet suit options in sizes from S to XL. They even have styles for nursing, which means you don't have to take your entire top off to feed your baby at the beach – score! As an added bonus, all of their suits are made of a UPF 50+ fabric that'll protect that beautiful pregnancy skin of yours from the sun. They carry brands like Pea in the Pod and styles from rash guards to swim skirts. Shop Motherhood Maternity here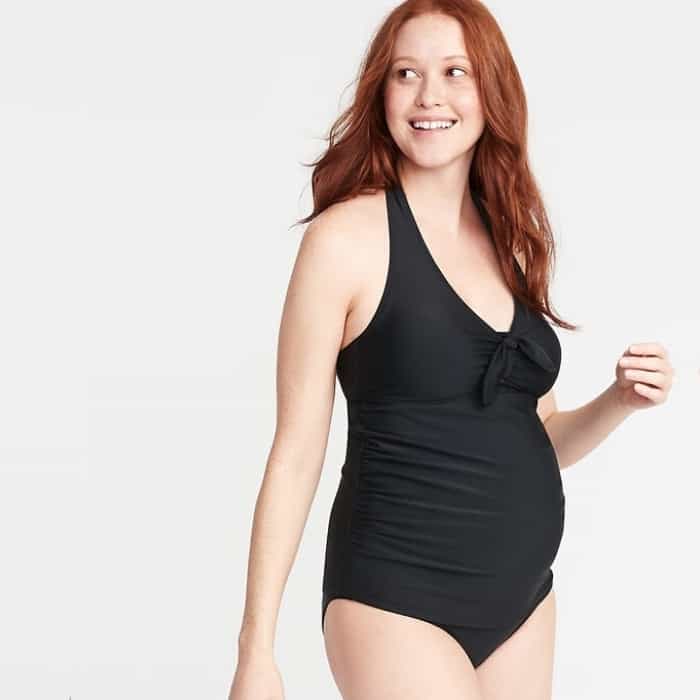 If you're looking for a maternity suit that's cute and will leave you with enough spare change to buy a round of ice cream for everyone at the pool, Old Navy is a great bet. Not only does Old Navy have sales all the time, even their regular-priced swimwear can't be beat. I'm in love with the high-waisted adjustable bottoms that can stretch over your belly for support, and the fact that their suits go from XS up to XXL. Shop Old Navy maternity swimwear here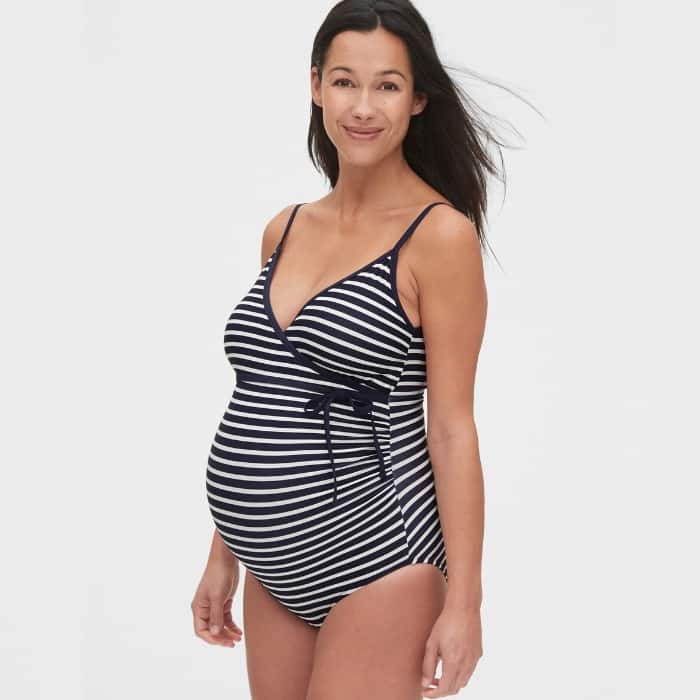 Although GAP doesn't have a huge selection of pregnancy swimsuits, the pieces they do have are super flattering classics. Sizes range from XS to XL and come in a few basic prints or solid black. The regular prices are a little on the higher side, but you can often find sales, especially online, of up to 50% off. Shop the GAP here. (If you're in Canada, go here.)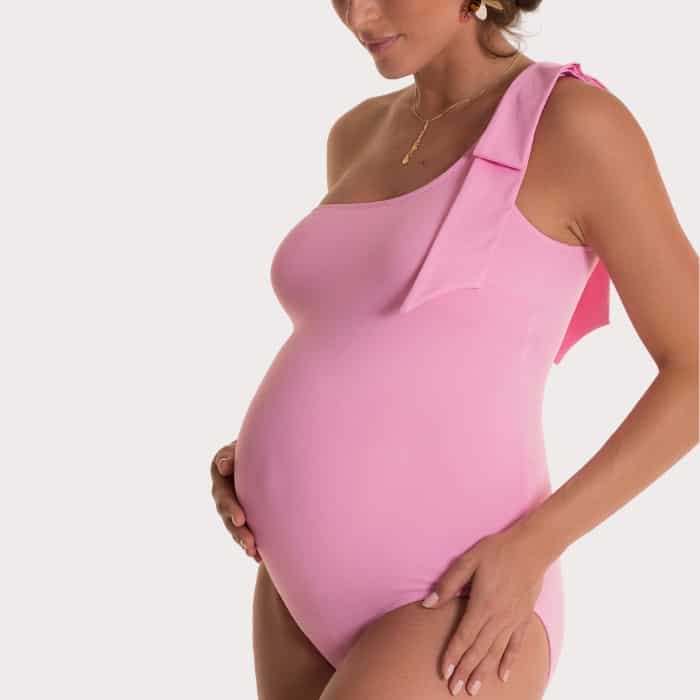 Nordstrom has some gorgeous maternity suits from a handful of different brands. Whether you're looking for the best maternity bikinis or something with more coverage, there's a little bit of everything at Nordstrom. Prices on some of the suits here can climb over the $100 mark, but hey – sometimes it's nice to treat yo' self. Shop Nordstrom here.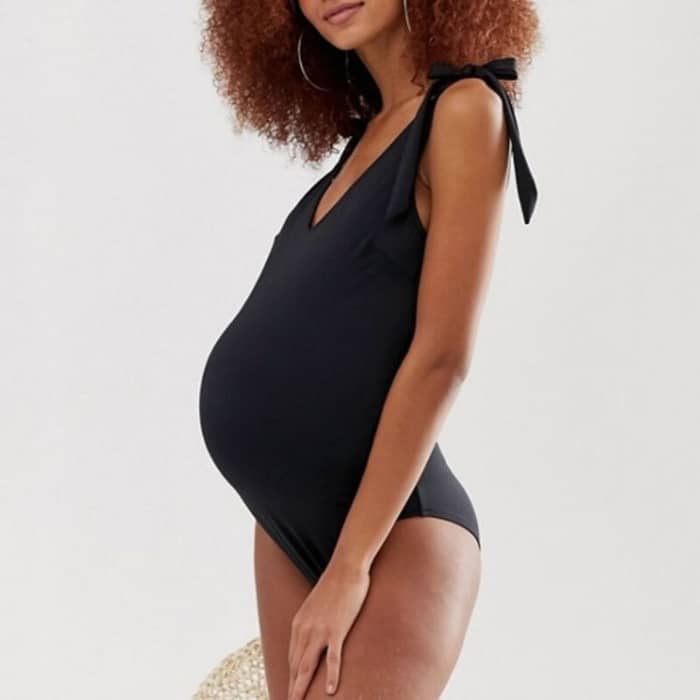 ASOS has swimwear that you'll want to keep wearing long after your baby bump has disappeared. Their styles and prints are fun and flattering and start at a US4 and go up to US14. They seem to sell quickly, so check out their site before everything gets snatched up! Shop ASOS maternity swimwear here.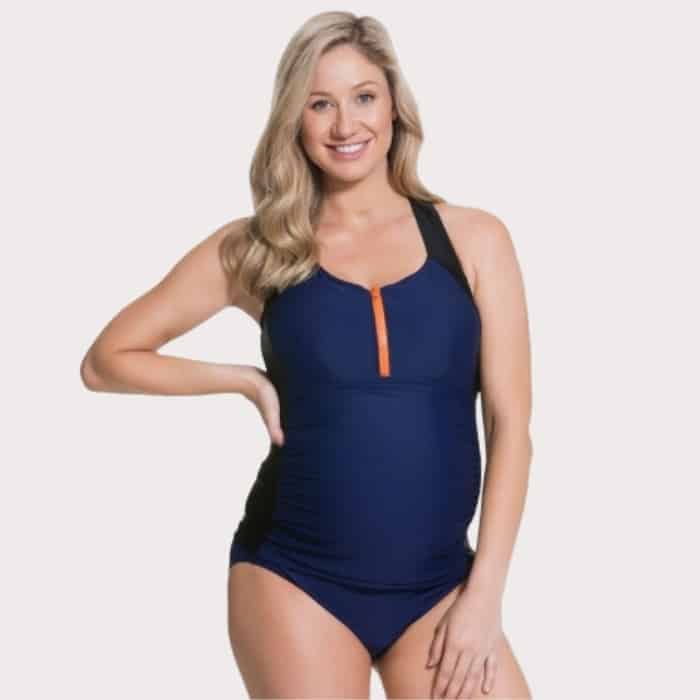 Cake Maternity has a small but mighty selection of one-piece maternity suits ranging in size from S to XL. Each swimsuit is made from chlorine resistant material and has UPF50+ UV Protection and they have more selection than Speedo if you're looking for something sporty. The underwire on selected tops helps to provide extra support for your pregnancy tatas. The prices are a little on the higher side, so keep your eyes peeled for sales. Shop Cake Maternity here.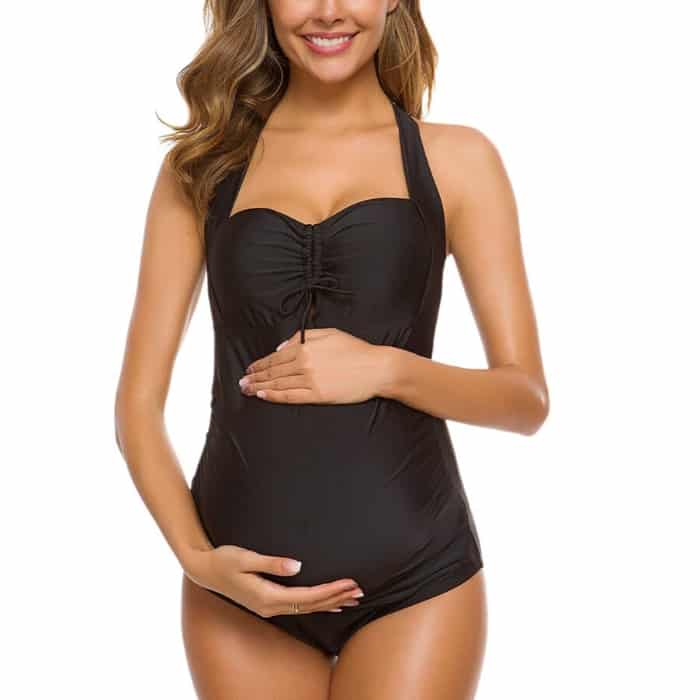 The only bummer about looking for maternity suits on Amazon is that regular swimwear and maternity swimwear are all jumbled together, meaning you might fall in love with a suit only to realize it's not gonna accommodate your pregnant belly. With that said, there are lots of great maternity styles floating around on Amazon, with a bit of a spread in prices. If you're in a rush to get in the pool, Amazon really can't be beat in the shipping department (and you can sneak some pregnancy pool snacks in with your order – bonus!) Shop Amazon here.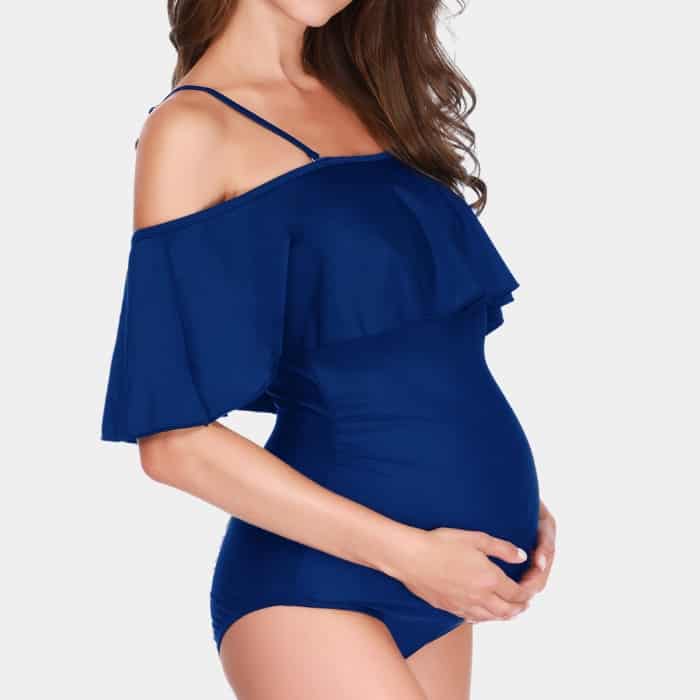 Can I just say – when I clicked on Walmart's website, I wasn't shocked to find that their maternity suits were totally budget-friendly, but I was a little surprised at how damn cute they were. As a matter of fact, one of the suits I stumbled upon was identical to one I saw at Nordstrom and at half the price (although the brand was different). Walmart also has tons of flow coverups and maxi dresses perfect for getting to and from the pool or the beach. Shop Walmart here.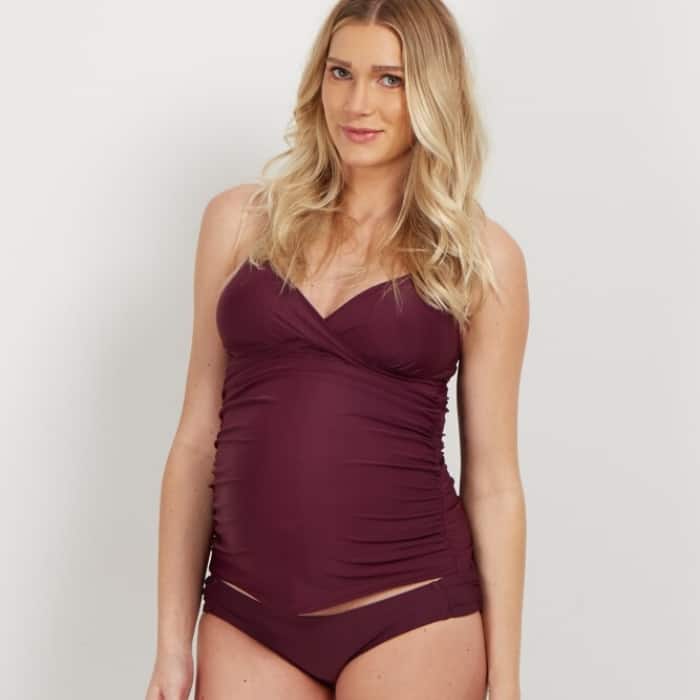 First of all, props to Pinkblush for being the only shop on our list who not only offers swimsuit sizes up to 3X but offers them in the most beautiful styles OF ALL TIME. There isn't a single suit on their site I wouldn't want to wear every day of the damn week, and did I mention they're totally affordable? Okay, I'll stop gushing now. Shop Pinkblush maternity bathing suits here.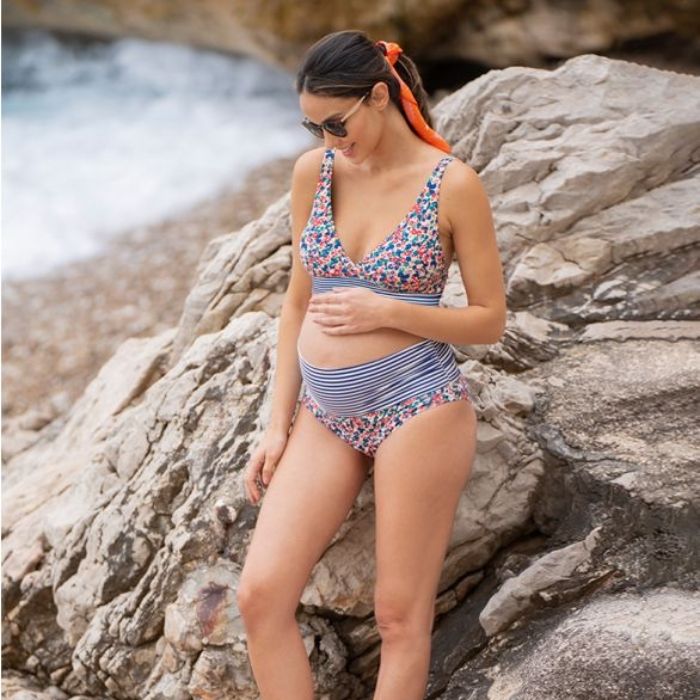 Seraphine has some of the best maternity swimsuits whether you're looking for a halter suit with adjustable straps or a maternity swim dress. They carry a variety of bust sizes and seem to cater to comfort over trends. You can shop their maternity swimwear here.
There are lots of great options for maternity swimwear.
Whether you spring for a fantastic one-piece maternity swimsuit with side ruching or simply rock your belly button in your regular ole bikini you've had forever, do whatever works for you – there are no rules.

Did we miss a great spot to score a maternity swimsuit? Fill us in in the comments!

Our next reco: Being Pregnant in the Summertime is Like…
---
Get posts & giveaway updates delivered right to your inbox
---
---