Preparing to bring a second baby home can be just as daunting as it was the first time around, but for totally different reasons. The moms who follow Pregnant Chicken are beautiful princess angels full of amazing tips which they've shared with us below, capped off with the most important reminder of all: you've totally got this. To start off, here are some good reminders for yourself.
Nothing is normal at first
Something SO IMPORTANT to remember about becoming a parent for the 1st, 2nd, or 500th time is that nothing is "normal" in the first few months.

Try to resist the urge to compare your new situation to those of your fellow moms, or even your previous experiences bringing a baby home. Each of your kids has their own personality (obviously), which means that the dynamics of every transition will be different.

Don't feel bad about relaxing some of your previous rules and routines (like screen time, bedtime, nap time, outings, workouts… you get the idea). Things will get back into a rhythm eventually, and it's okay to spend a little bit of time figuring out what that's going to look like.
Your love is multiplied, not divided
I read somewhere that when you add a new child to your family, your love is multiplied – not divided. Any parent of more than one child can attest to the fact that this is 2000% true.
You are not alone if you find it tricky
Some moms shared that bringing their second baby home was a difficult transition for them, not to scare future mamas of two, but to let them know that if they were finding things challenging, that they weren't alone. If you're having a hard time adjusting, give it time – you'll find your groove soon enough, and until then, don't feel guilty about a damn thing.
It may go smoothly
On the other hand, quite a few moms shared that they found the move from one kid to two surprisingly smooth. With a little bit of confidence built up from your first go-around, things might actually seem easier than they did with your firstborn. Another good reminder is that (some) newborns sleep a lot for the first few months, giving you a bit of an adjustment period to get into the swing of things.
This isn't your first rodeo
Yeah, things are going to be a little different once you've got two kids to look after, but just remember – you did it once, when you had no fucking clue what you were doing, and you survived. The second time around will be a piece of cake (like, maybe not the most delicious cake at first, but a cake's a cake, amirite?)

The Best Equipment For Juggling More Than One Kid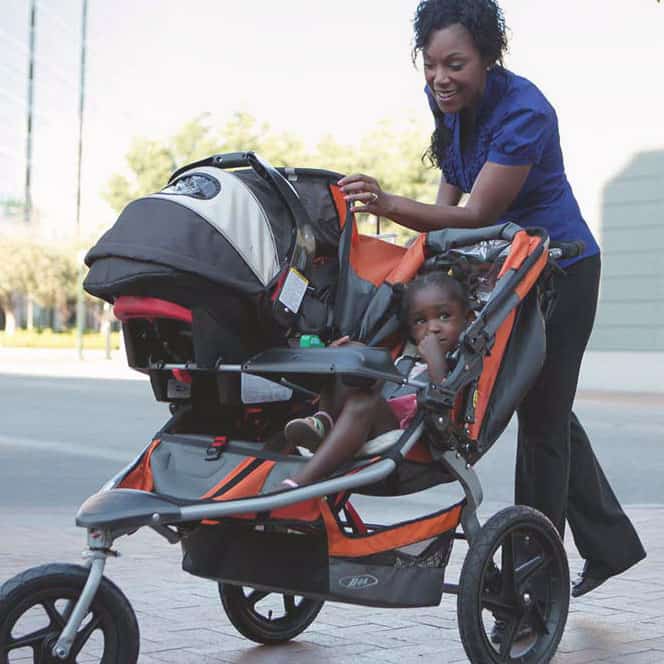 Double stroller
My son was just two when my daughter came onto the scene, and before she was born I took to the Internet to see if a double stroller was really necessary. The answer was an emphatic yes, and I'm so glad I took the plunge. Going for walks with my kids was the easiest way to get us out of the house to stave off the cabin fever. (I'm a big fan of the Mockingbird single to double stroller.)
Baby carrier
Tons of moms agreed that having some kind of baby carrier to help you tote around your baby while chasing around your older kid is an absolute must.
Hand me downs
Important money-saving reminder: Girls can wear blue! Boys can wear pink! Let your babe bask in the glory of hand-me-downs from older siblings.
Sanity Savers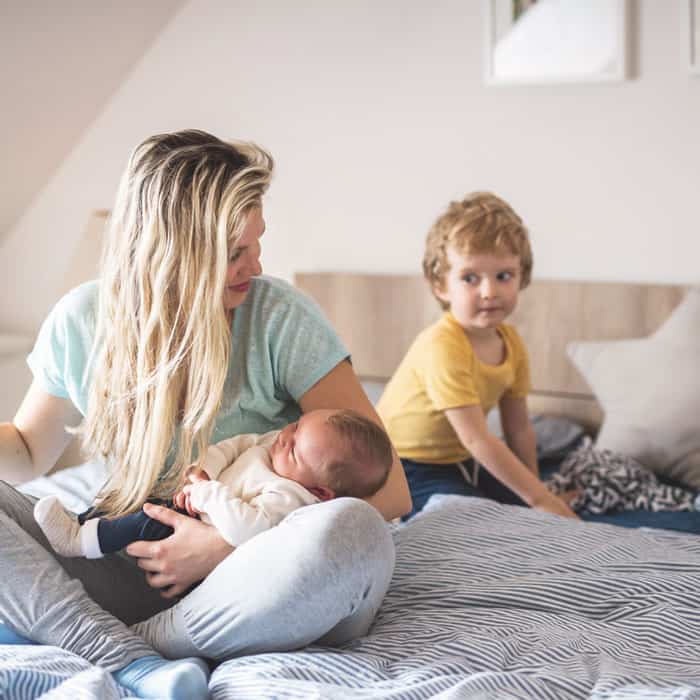 Make freezer meals ahead of time
Cooking healthy(ish) meals for your family will be the last thing on your mind when you're getting settled into your new normal. In addition to planning dinners, making things like pancakes, muffins and other healthy snacks and breakfast options is a great time-saver.
Stick with daycare
If you can afford to do it, keep your older kids in daycare for as long as possible. The routine is healthy for your big kid, and having an opportunity to get your feet under you with your new baby is beneficial for you. Likewise, if it's possible to hire a post-partum doula to help support with the new baby and household things like laundry, cleaning, and meals, do it and never look back!
Get a hand with housework
In addition to hiring out care for your kids and yourself, if it's within your means, paying someone to help with housework is an awesome investment. A lot of moms also swear by meal delivery services like Hello Fresh to take the hassle of meal planning and grocery shopping off of their plates (pardon the pun).
Grocery delivery
Order your groceries online for pick up or delivery so that you don't have to deal with squirmy toddlers, germy carts and cranky babies in the store.
Say YES when someone offers to help you out
Whether it's a friend, parent, in-law, or stranger on the street (just kidding on that one). Having my mom come and stay for the first week or so was huge for me after bringing home my second-born, especially when it came to getting to doctor's appointments, sneaking in naps and showers and entertaining my two-year old.
Let go of your expectations
The laundry and dishes are allowed to pile up. You don't have to shower, or even get out of your pajamas every day. The house might not be as clean as you'd like when people pop by. Finally, your post-baby body might not look the way it did after baby number one, and, like everything else mentioned here, that's totally normal and totally fine.
Schedule a break
Enforce nap time or quiet time in their room for your older kid after lunch to give yourself a bit of time to breathe.
Get out
Look for Mom's Day Out programs near you to get a little bit of time to yourself during the week, and don't feel guilty about it for one single second.
Do Your Baby Prep
If you did this last time, you know the drill. Get everything set up for your baby if you've got it ready to go. Wash, hang, and fold their clothes, set up their nursery, and dig out shit from baby number one that you can use again. Stock up on or getting new stuff if you need to.
Plan Childcare for the Birth
Make sure you have a plan for your toddler when it's time to head to the hospital (if that's where you're planning to deliver). As you know, it can be hard to pin down the exact day your baby is going to arrive, but it's important to have a plan set for the general time so that you're not trying to make childcare arrangements when you're 3 centimeters dilated.
Partner Stuff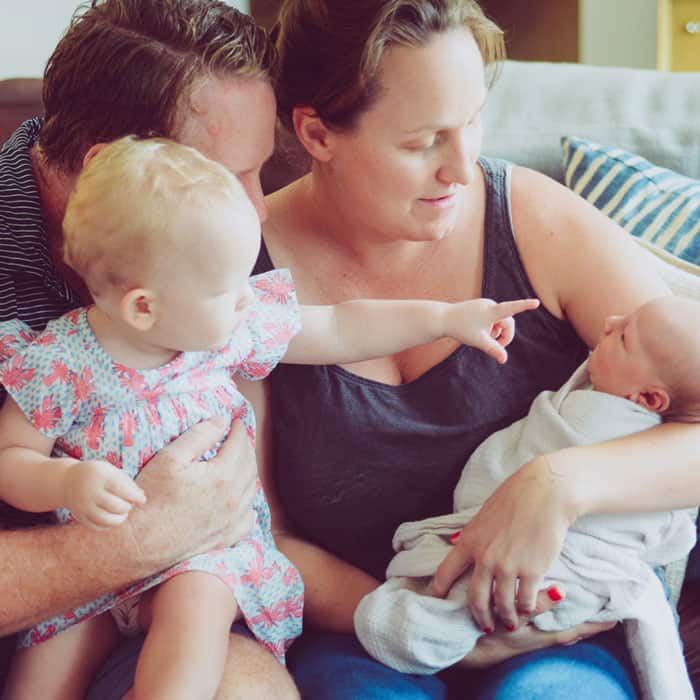 Set Up a Calendar and Make a Schedule Together
Put everything you can think of onto a calendar so everyone knows what's coming up in the weeks and months ahead. We're talking appointments, playdates, grandparent visits, extracurricular activities, you name it. Make it digital or physical – whatever works best for your family. Schedule things like "Mom's night off" so you have actual times on the calendar put aside to give yourself a break (and do the same for your partner).
Figure Out Logistics Involving Your First Born
Instead of silently fuming when your partner doesn't intuitively get up to wipe your toddler's butt while you're in the middle of a feed, talk about your needs ahead of time. Make a plan for who is going to be in charge of things like your older kid's bedtime, morning routine, school drop offs, and middle of the night wakeups.
Hash Out Baby Duties
As you did for your firstborn kiddo, have a discussion with your partner about who is in charge of baby duties like feeding and diapering or how you plan to divide them up.
Don't Forget: You Matter, Too
Make Those Appointments
Trying to sneak away to the dentist or optometrist becomes more challenging when you have a newborn. While you're at it, book a massage or a manicure if you can.
Set Your Boundaries
If you're someone who has a hard time saying "no" to people, set up your boundaries ahead of time. Let family members and friends know what your expectations for visits look like (for example, who you'd like to come and visit in the hospital and how many people you feel comfortable with).

Set boundaries for in your home, as well. If your partner is inviting people over, make it clear that you won't be setting out any cheese platters or vacuuming to prepare for guests.
Get Ready For The Birth
Been there, done that (but you have to do it again). If it's your jam, write up that birth plan, knowing there's a good chance things won't go exactly as planned. Blow up the birthing pool in your living room or pack your hospital bag so you're ready to go when it's baby time.
Plan For Postnatal
It might not be surprising that, although everyone will probably be fawning over you while you're pregnant, that attention is likely to shift over to the baby once you give birth.

Talk to your partner, your friends, your parents, your doctor, your therapist, or whoever you feel comfortable with to plan for mental health check-ins after the baby is born. Have a plan for if you're struggling – especially if you experienced postpartum depression or anxiety previously.

Even though it shouldn't really be your responsibility, it's important to recognize that your mental health deserves a plan, and others may not recognize when you're not coping well.
Do you have any tips for preparing for a second baby?
Is there anything that you swear by that didn't make the list? Did some of the suggestions here save your life when you brought home your second baby? We want to hear it all in the comments!

Related: Advice to Myself the Second Time Around
---
Get posts & giveaway updates delivered right to your inbox
---
---