Figuring out what you need to do when you find out you are having a baby can be terrifying, exciting, overwhelming, or all of the above. Here's a breakdown of some of the prepping you can check off your to-do list when welcoming a baby into your life.
I've left off things like vitamin supplements and test booking as those should be discussed with your medical professional. I've also left off preparing the nursery. If you want to go whole hog and set up a Pinterest worthy nursery, go for it. But, you don't really need that much when the baby is born so you don't HAVE to do it if you don't feel up to it or if this kiddo decides to arrive early.
The list is long so consider signing up for the Pregnancy Calendar where I break this list down week-by-week so you don't feel like you're drinking from a fire hose.
Let's get started!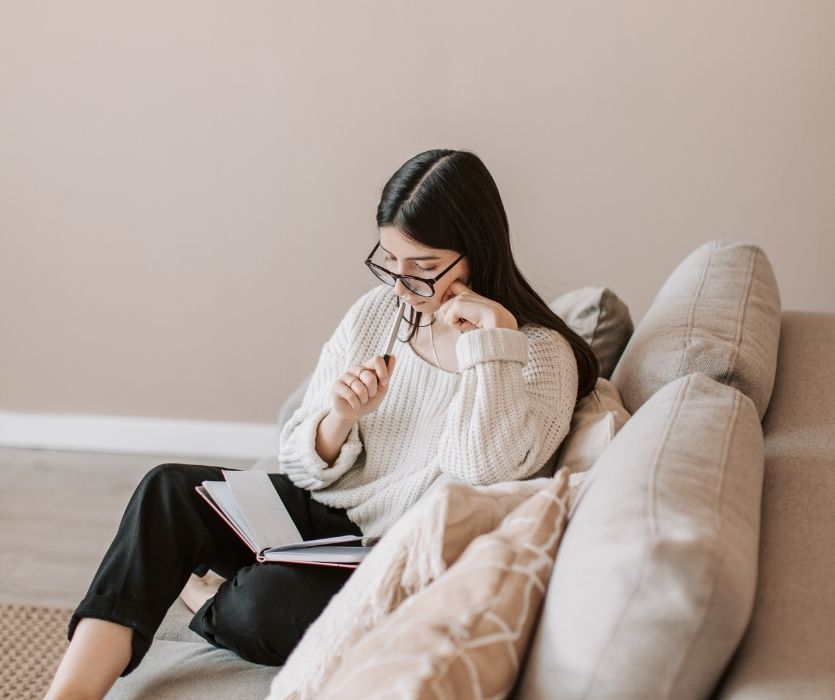 Baby Prep + Pregnancy Checklist
I'm going to start the to do list with the two most important ones. If you do nothing else on the full list, do the first two.
Be kind to yourself. Whether it's date nights, playing with the dog, or lying on the couch and binge watching Marvel movies, do shit that feels good and makes you happy throughout this whole pregnancy. It is a long, hard haul so treat yourself well when you can.
Life housekeeping. Are you safe? Got some life trauma that needs addressing with therapy? Toxic people who need to go? If you haven't dealt with this stuff now is the time to get going. If you do nothing else on this list, do this one.
Save Memories. Keep track of all the memories you'll be creating. (You think you'll never forget them but they definitely get fuzzy.) Check out 11 Ways to Save Baby Memories.
Books and Apps. Fill up your phone and nightstand with some great reading material. Check out Best Pregnancy and Baby Apps Voted by Parents and Best Pregnancy Books (That are Actually Worth Reading).
Share the News. If you want to have some fun sharing the news with family and friends, check out 60 Cool Ways to Announce Your Pregnancy and 6 Tips For Making A Great Pregnancy Announcement Video.
Find a medical practitioner. OBGYN? Midwife? Doula? Eddie down the street? Find a professional to help you safely get this kid out of you when the time comes. A good read is Questions to Ask When Choosing a Care Provider.
Childcare options. If you're going to need someone to take care of your baby, here are some tips for looking for childcare from a childcare provider.
Check your insurance. Find out what is and isn't covered in your insurance policy and what benefits and procedures you might be responsible for. Also, find out what hospitals are in-network.
Take a birth & baby class. You can often find free ones through your community and there are also great ones online. Here's a great post to get you started called What are the different types of birthing classes?
Wardrobe assessment. You won't need a full closet overhaul to get you through a pregnancy (unless you want to). Check out Build a Maternity Wardrobe (without blowing your budget) to see what you might need.
Figure out responsibilities. If you have a partner, now is a good time to figure out who is doing what. Everything from grocery shopping to doctor appointments should be discussed. Things like "just tell me what you need" aren't going to cut it when you have a screaming newborn in the house. I highly recommend reading Fair Play by Eve Rodsky to help break it down for you. (Word of warning: her husband made me furious and sounds like a complete dick.) It's a great book though and will give you a template to work with.
Research gear. The big ones to start with are a car seat, stroller, baby carrier, breast pump, sleeping space, and monitor. It can be overwhelming so take your time. There are happy kids sleeping in a laundry basket somewhere so don't sweat it too much. Check out What to Get When You're Expecting - New Baby Checklist and Baby on a Budget - the Barest Bare Essentials.
Set Up a Baby Registry. You don't have to make it public yet but you're looking for something to do it's worth setting up a registry to keep track of what you think you might need. As time goes on you can add to it or swap things out. Even if it's just to get the free welcome box and the registry discount, it's worth making one. Here's a post on the Best Baby Registries and the Best Places to Score Baby Freebies With No Big Catch.
Stay Comfy. Check out gadgets that can extend your 'regular' wardrobe like this bra extender, pants extender, or these belly bands (they cover the gap between your shirt and your pants). And get yourself a comfortable pair of shoes!
Photos. Do you want professional pregnancy photos? A birth photographer? A newborn photoshoot? Now is the time to start looking around. If you're going to take some photos yourself, check out 60 Cool Ways to Announce Your Pregnancy and 5 Tips for Great Maternity Photographs.
Name ideas. Here are The Best Baby Naming Sources to pick the perfect handle, plus, 12 Fun Ways to Test Your Baby Name to make sure it passes the test. ;)
Sibling Prep. If you have older kids, read up on the best ways to manage new baby introductions to make the transition smoother. How to Prepare Your Toddler for a New Baby and some popular posts about siblings.
Clean old gear. If you've been given come amazing hand-me-downs or have gear from older children, give it a good hose down. You can even have them professionally cleaned by places like Baby Quip. Check to make sure it hasn't been recalled (google the name with 'recall') and check for any loose or broken parts.
Pet prep. If you have pets, start thinking about preparing them for a new pooping, crying family member. Here's a great post to get you started.
Buy a waterproof mattress protector. They are inexpensive and save your mattress from any surprise leaks that could happen at any time (and are bound to be in your future).
Baby delivery know how. While we're talking about labor, it's worth you and any partners or close family members knowing how to deliver a baby in an emergency. (While not ideal, it's not as bad you think.) Here are Step-by-Step Instructions on How to Deliver a Baby.
Free breast pump. Most insurance companies will cover a breast pump and there are companies that handle all the paperwork for you (it's not a scam). Check out this post on getting a Free Breast Pump and see what you qualify for. You'll need your insurance number – sorry, I know that's a pain in the ass.
Register your baby gear. Fill out those little cards that come with strollers, carriers, etc. If something is recalled, the manufacturer will be able to contact you and let you know what the next steps are. Keep in mind the manufacturer can't legally use this information for any reason other than a safety alert regarding the product.
Sign up for recalls. Head to the CPSC website and sign up to receive emails for "Recalls involving infant/child products". It's a good way to stay informed about any hand-me-downs or product notifications you may miss.
Pick a pediatrician. You can ask your medical practitioner if they have any recommendations. I went the family doctor route vs. pediatrician but it's totally your call.
Prep for mat leave. Check in with HR to figure out what you're entitled to in regards to paid and unpaid leave. Save all documents in one spot online or in a folder. If statements have been made verbally, send a follow-up email that has a friendly recap so you have it in writing – "Here's an outline of what we talked about today." Start prepping files to hand over to coworkers (or get a post-it note ready that reads, 'figure it out, fuckers".)
Read up on birth. Check out some positive birth stories – here's my first birth and my friend, Moira's birth (she's like a Pez dispenser), and check out the post How Painful is Childbirth?
Think about birth preferences. Nothing major. Just a short page or paragraph on what you'd like your birth to look like. Check out 5 Reasons to Create a Birth Plan, Even Though Birth Never Actually Goes to Plan.
Learn about kick counts. There is some debate on whether these are worth doing, but here is what kick counts are and why some medical practitioners want you to keep track of them.
Bump support. Aches and pains often accompany a growing belly. There are a number of support garments that help carry the heavy load (Belly Bandit makes good ones) so don't suffer in silence.
Grandparent handles. If you're searching for the perfect names check out The Ultimate List of 500+ Names for Grandparents. There are some very creative and unique ideas in there!
Pack a hospital bag. This doesn't have to be major but it's good to have a go-bag ready around now (similar to a zombie apocalypse). Here is The Ultimate Hospital Bag Packing Checklist but even if you just keep all your insurance stuff, a toothbrush, a pair of slides, and a long phone charger in one spot, you should be fine.
Install your car seat. They can be a little fiddly so make sure you know what you're doing before you stick an infant in it. Do it yourself or get a pro in your area to install it. If you still need to get on, check out How to Pick the Best Car Seat. Follow Safe In The Seat on Instagram.
Birth announcements. If you want to send out birth announcements, now is a good time to start thinking about them. Minted has a gorgeous variety and you can get 15% off your order when you use the code PC15. You can check out Minted here.
Make a will. I know, I'm getting heavy here, but a will is important. Once you have a child, things like guardianship, asset distribution, etc. are things you have to have a hard think about and are things you should have in (legal) writing. A family lawyer is a place to start or sites like Legal Zoom (or epilogue in Canada) are great options.
Baby proofing. Infants don't need baby proofing but parents need time and energy to baby-proof which might be scarce after this kiddo arrives. Here's a complete baby proofing list (you won't need all of it) to get you thinking about where you want to make adjustments.
Postpartum setup. Whether you end up delivering vaginally or by c-section, you're going to have some healing to do. Here's a post about a Postpartum Recovery Station to give you an idea of what you might need.
Perineal massage. If you haven't heard of Perineal Massage it's worth checking out because it can lower your risk of third and fourth degree tears during a vaginal birth. (Here's a simple illustration of what I mean about tearing from the Shit We Should Know Series on Instagram.)  Healthline has a pretty concise post on Perineal Massage if you want to get an idea of what it is. I love how their first step is to 'wash your hands' - thanks for the tip, lol.
Postpartum depression. Your hormones are going to spiral after you have this baby so it's worth it for you – and those who care about you – to know what to look for in PPD. Have a look at posts about Postpartum Depression, Postpartum Anxiety and Intrusive Thoughts before you give birth. If possible, designate someone you trust to be your consistent check-in person after you've had the baby. Choose someone who would say, "you're not okay so let's get help" AND you'd believe that person.
Learn infant CPR. I like the Tinyhood course better than the Red Cross because they don't have adult CPR woven in there – my brain can only handle so much. If you have access to a free course, great, do it. I don't care where you learn it but know CPR, okay?
Safe sleep. This is a good time to get to know all the ins and outs of safe baby sleep. Here is a fantastic post on Setting Up a Safe Sleep Space and a post on Safe Sleep for Babies: Good, Better, Best if it all goes out the window. (I don't want you googling this shit at 3 am while holding a screaming newborn.) Also, pass those posts along to anyone else who is going to be interacting with your baby's sleep.
PJs or loungewear. Consider getting yourself some fresh loungewear and/or pajamas for those first few weeks after you've given birth. If you're anything like me, it will feel like a 24/7 perpetual day AND you'll feel gross. Having something fresh and comfortable to put on is small but I found it helped. Check out Storq, Kindred Bravely and GAP for ideas.
Food & snacks. Whether you buy a bunch of frozen dinners, or food prep some healthy freezer meals (Skinnytaste has some excellent recipes) get yourself ready for feeding yourself when you don't want to make food. Load up on one-handed snacks and make sure you have plenty of food, litter, etc. for pets. Prep like a zombie apocalypse is on the way and you should be fine.
Know the signs of labor. The movies always make it seem very black and white but it's not always obvious. The post Yep, You Can Be in Real Labor and Not Even Know It plus, "How Do I Know if I'm in Labor?" might be helpful.
Wash some clothes for this kid. I wouldn't sweat getting a whole wardrobe organized (unless you want to) but having a bunch of basics ready to roll is a good idea. Here are some Best Baby Laundry Tricks and Tips and setting up a Diaper Station.
Feeding prep. If you plan on breastfeeding, check out Breastfeeding in the First Week: 4 Things You Will Be Glad You Knew and if you plan on Formula Feeding, check out Formula Feeding Basics.
Get to know the gear. Some people (and many cultures) feel like it's bad luck to set up the nursery beforehand. Even if you are waiting until the very last minute to set things up, it's worth knowing the ins and outs of your car seat, carrier, and safe sleep space (bassinet, crib, portable Playard, etc.) at a minimum. Keep the box and don't cut the tags off but give it a once over before you give birth so you're not trying to wrangle a wormy newborn into a wrap carrier you have no clue how to tie.
Call list. Prep your email or call list for anyone you want to contact once the baby arrives. You can even craft a rough message ahead of time so you can just fill in the blanks then hit 'send' – especially if you have a partner who might announce the state of your perineum to your work colleagues if left to craft the announcement on their own. (Here are some ideas.)
Child and pet care. Confirm who will be looking after kids and pets once it is go time. Assume that it will be an overnight stay and have any lists, food, instructions, etc. prepped. Make sure there is always gas in the car too.
Prep for visitors. Or no visitors depending on how you feel about it. The first few weeks home with a baby tend to be turbulent so choose who you see wisely. Visiting a baby is a privilege – not a right – and no one is owed a viewing. Here are some tips for handling visitors if and when you feel the time is right.
Manage expectations. Check out posts like Life with a 10 Week Old Baby - What I've Learned So Far and 20 Things I Learned From My First 4 Months of Parenthood to get an idea of what the first few weeks of parenthood have been like for other parents.
Binge watch list. Figure out what you want to watch when this kiddo is up at 12 am, 2 am 3:30 am, 4 am, etc. so you're not staring at a wall in the middle of the night. You're in the trenches those few weeks so set yourself to be sleeping safely while saving your sanity. Don't worry about sleep habits for the first 4 weeks. Just keep yourself above water.
Set up thank yous. Whether you go the electronic or physical card route, you can set up any thank yous you might want to send. Craft a stock 'thank you' message so you can just fill in the blanks when you're too tired to think. Check out Postable to send personalized cards that look handwritten without having to leave your couch.
Do not disturb. Print out one of my free do not disturb door tags to keep the doorbell ringing and knocking to a minimum.
Don't touch! While we're on the 'hands off' theme, brush up on Ways to Say, "Don't Freaking Touch My Baby" (includes a downloadable car seat or stroller tag too.)
Pic prep. Set up a safe site to share baby photos with family and friends. Check out 10 Best (Mostly Free) Photo Sharing Sites for Baby Pictures.
Learn about diastasis recti. This is a super common but rarely talked about condition that affects your ab muscles. Here's how to figure out if you have it, what to avoid that makes it worse, and how to repair it - Diastasis Recti - The Pregnancy Side Effect You Probably Don't Know You Have.
Is there anything else you'd add to a baby prep checklist?
Drop 'em in the comments below!
Also check out: What to Get When You're Expecting - New Baby Checklist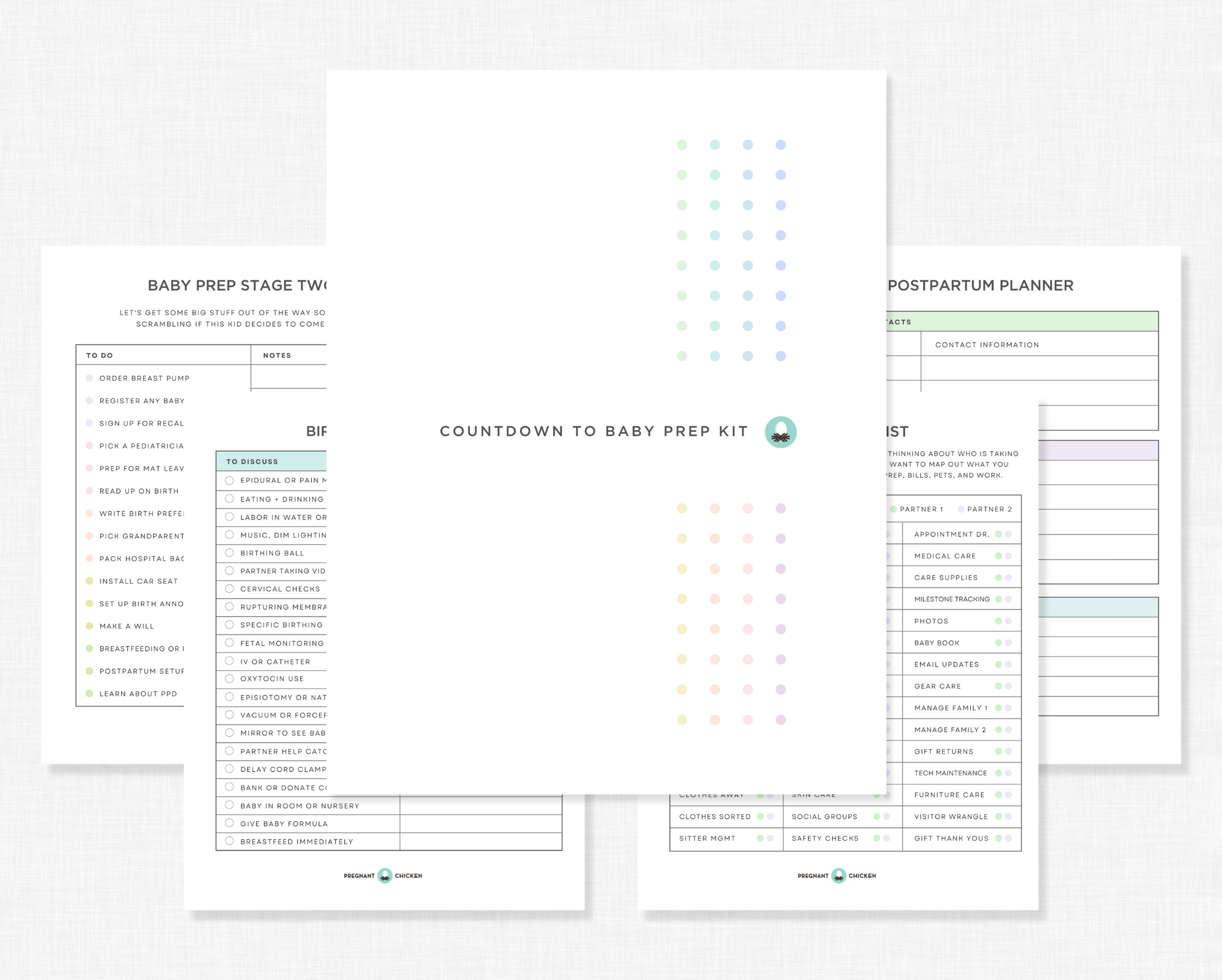 Get the full prep kit
I have a full 30-page Baby Prep Kit for sale on Etsy. It's a series of checklists broken down into each task and is all lists and checklists – no journal, no filler, and no random graphics that use extra paper.
---
Get posts & giveaway updates delivered right to your inbox
---
---