When it comes to finding the best baby carrier, we've got good news and great news. The good news first - technology keeps improving, meaning just about anything you go with has been tested, improved upon, and made to be the very best version of itself possible. The great news is that because of this, there are tons of options out there.
Regardless of if you're looking to get some cozy snuggles around the house to trekking through Mordor with Samwise Gamgee as your guide, there's a carrier out there that fits your baby, your body, and your budget.
Do I need a baby carrier?
This totally depends. Many littles, especially newborns, find comfort in being snug and cozy against your chest. Carriers allow you to move around a bit more and tend to the things that need tending with two hands, like peeling the wrapper off the last cupcake or putting pants on your toddler. They also make outings where a stroller wouldn't cut it more feasible, which is a huge bonus if you live in a city with lots of crowds or stairs, or you enjoy a hike here and there. They aren't the same things as a hiking backpack, though, so if a long trek is in your future, you're going to want to expand your search.
Are baby carriers safe for newborns?
When used properly, yes. Each carrier has slightly different instructions for achieving a perfect fit, but in general, the big thing is you want to make sure they can breathe unobstructed with nice open airways, so chin up, no fabric over the nose or mouth, and snuggled in nice and close. Many brands also work with experts to make sure your kiddo is supported in all the right places to keep their hips, back, and necks in the right position.
What types of baby carriers are there?
Packs, wraps and slings are the most common, but there are even some fancy hybrid options out there that combine perks from several kinds.
Best pack type baby carriers
These are arguably the most versatile, with packs made to last from infancy into toddlerhood. Created with comfort in mind, these packs often come with padded straps, lumbar support, an adjustable waistband, and sometimes even a pocket or two making them perfect for day trips, or just surviving witching hour at the house.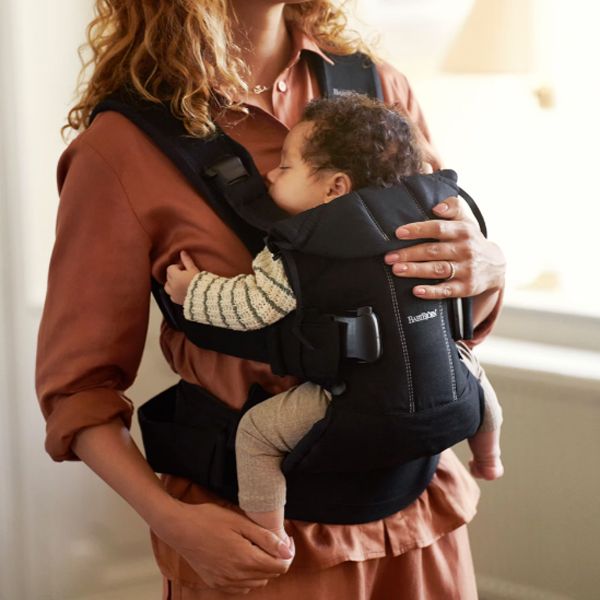 BabyBjorn - Best User Friendly Carrier
These folks have been at it so long the name BabyBjorn is nearly synonymous with baby carriers. With a handful of styles and three different fabric options - including a super breathable mesh option perfect for warmer climates and hormone surges - BabyBjorn is a nice middle-of-the-road option for the whole family. They're also machine-washable, easy to use, and have stood the test of time. You can find it on the BabyBjorn site, Amazon, buybuy Baby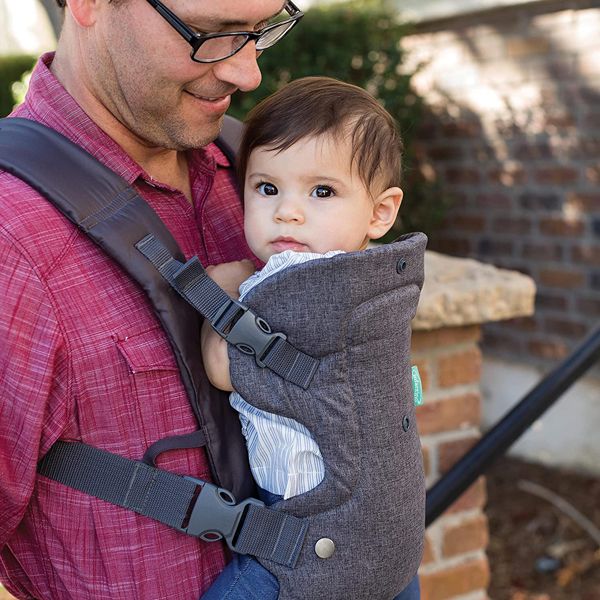 Infantino Flip baby carrier - Best Budget Option
If you're on a bit of a budget or just need a carrier for when you're in a pinch, nothing beats Infatino's Flip. For less than $30 you get a sturdy carrier that gets the job done. This would be great for someone that usually gets around with a stroller but wants a newborn carrier once in a while. In general, it has less padding and support compared to some of the other options, so keep that in mind if you're planning on using it for more than a quick grocery run now and again. You can find the Infantino Flip on Amazon, buybuy Baby, Target.
Boba 4GS baby carrier - Best Minimalist Carrier
If the idea of a wrap doesn't appeal to you then a Boba 4GS may be a nice solution. It's a soft-structured carrier that comes with a simple to use a newborn insert that acts like a little bum booster pillow when your baby is itty bitty to keep them safely in the correct position. Anyone can wear it and it's an easy learning curve on how to use it. It's also machine washable, which is nice considering how long you can use it (up to 45 pounds). This one also has 3 carry positions - newborn (where baby's facing you), front facing, and like a backpack. It also has a little sleeping hood for naps. You can find the Boba 4GS on their site here and on Amazon.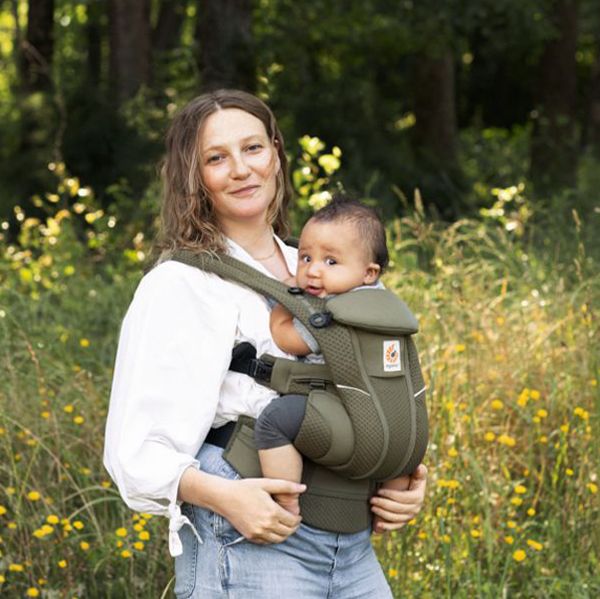 Ergobaby Omni Breeze - Most Versatile
With a name like Ergo, you're going to expect comfort, and these packs don't disappoint. (Well, at least in our experience.) Shoulder straps and buckles make adjustments super easy so several people in a family can wear it even if they aren't the same size. Lots of padding around the waist belt makes carrying in any position comfortable. Some styles require an infant insert (the 360 and original carriers), but several are good from infancy through toddlerhood. Another perk? They sell certified used products making them as eco-friendly as they are back-friendly. You can find the Ergobaby Omni Breeze on their site here and on Amazon, buybuy Baby and Target.
Best Baby Wrap Carriers
You wouldn't be the first to find a baby wrap intimidating, but with a little practice, getting a secure fit is a breeze. You can really customize the fit to both you and your baby, so super wee babes are nice and snug up to your chest, and gooney toddlers can comfortably sit on your hip. These tend to top out at about 30-35 pounds though, giving them a little bit shorter shelf life than some other carriers on our list.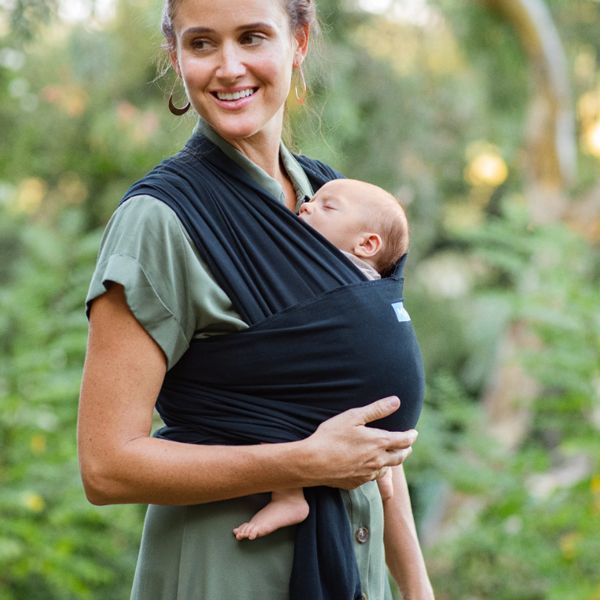 Moby - best no-frills option
The Moby wrap is another classic when it comes to baby gear. This lightweight, machine washable wrap has more of a 'granola' feel than a more structured carrier but once you get the hang of it, it's a really comfy option for kiddos up to 33 pounds. You can find the Moby on the Moby site, Amazon, buybuy Baby and at Target.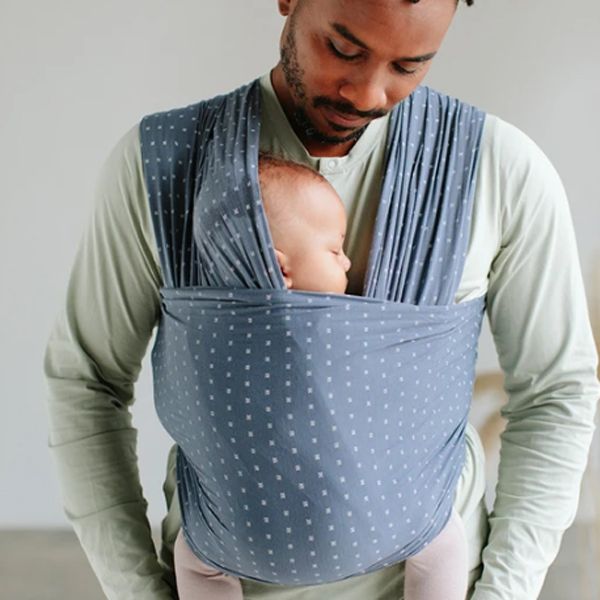 Solly Baby - Best Print Options
Much like the Moby, the Solly is a length of fabric you magically (okay, it just looks like magic) whip into a comfortable, stylish, secure nest for your babe. It's a hair more expensive than the Moby, but it has a ton more print options if you're looking for something to really fit your vibe. You can find all the Solly Baby options on their site here and on Amazon.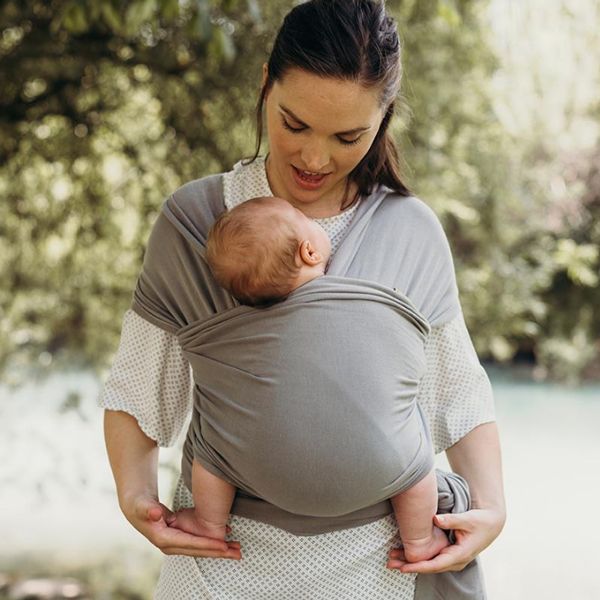 Boba Wrap - Best Budget Wrap
The Boba wrap is nearly identical to the Moby and the Solly, but there are a few colors that are a little cheaper than the other options, and in a time where every dollar counts, it's nice to have options. You can find the Boba Wrap on their site here and on Amazon.
Best Hybrid Carrier
Hybrid carriers provide the snugness of a wrap with the simplicity of a more structured carrier. They have super adjustable fits, making them perfect for families where multiple people will be wearing them, and are safe for newborns. Like the wraps, the weight limit on these tops out at about 35 pounds, so again that's something to factor in if you're looking to use it for a long time.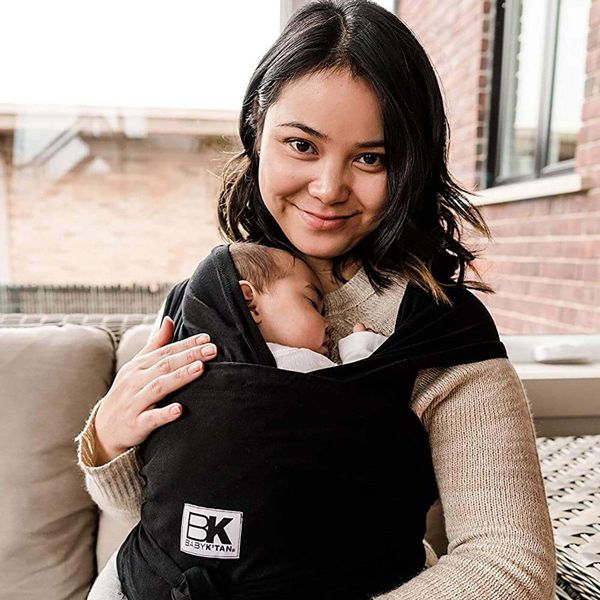 Baby K'tan - Best Hybrid Overall
So the K'tan is similar to the Moby in that it's a wrap'ish carrier but rather than a long piece of fabric, it's a loop (like an infinity scarf) with a separate piece that wraps around both you and your babe. As with other wraps or hybrids, the K'tan is a dream for newborns because you can really tuck those little bugs right up to you and they love it. The slight downside is that it is sized so if you are small and your husband is large (or vice versa) you won't be able to use the same carrier. You can find the K'tan carriers on Amazon and at Target.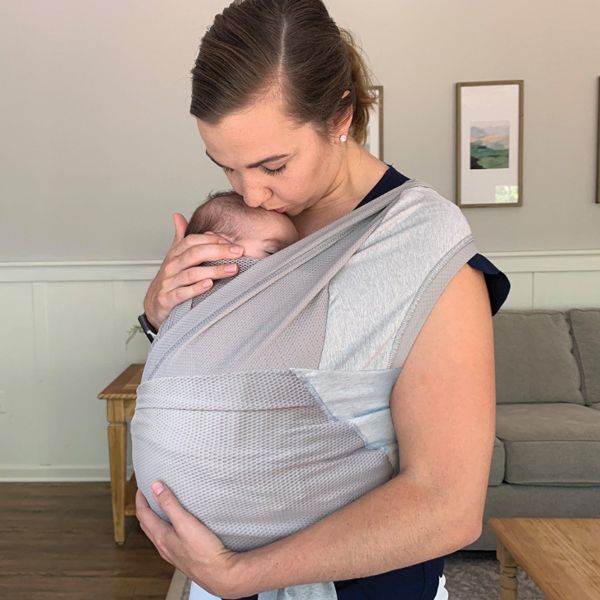 Boppy ComfyHug - Best for Small Babies
Not every carrier can accommodate a sub-8 pounder, but the Boppy ComfyHug can comfortably and safely carry babies as small as 5 pounds up to 20 pounds. With tank top style arm straps, this hybrid carrier is easy to slip on and off, and can be used for skin-to-skin, walking the dog, or launching your fortune 500 company. You choose. You can find the Boppy ComfyHug on Amazon.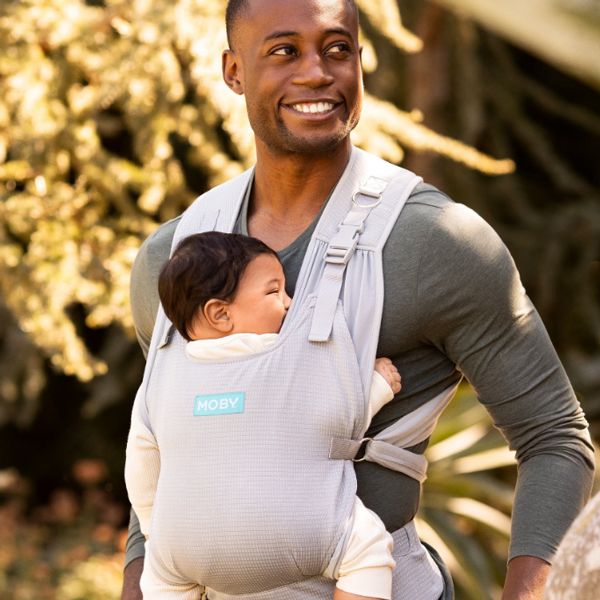 Moby Cloud Ultra-Light - Best Adjustable Hybrid
This one is a little closer to the structured pack style carrier than the wrap side of things, but that just might be the sweet spot for some Goldilocks looking for their dream baby-wearing carrier. Easy to use, and with padded shoulder straps and a pocket, this really is the best of both worlds. You can find the Moby Cloud Ultra-Light here.
Best Sling Carriers
Unlike a wrap, you just put the sling on and slip the baby in so there's no need for tricky tying or gymnastics to get your baby secured. They are light, compact and comfortable, and fit easily in a diaper bag. Some people find slings in general too loosey goosey and are willing to trade the ease of "on and off" for a more secure fit of a wrap, but you can be the judge.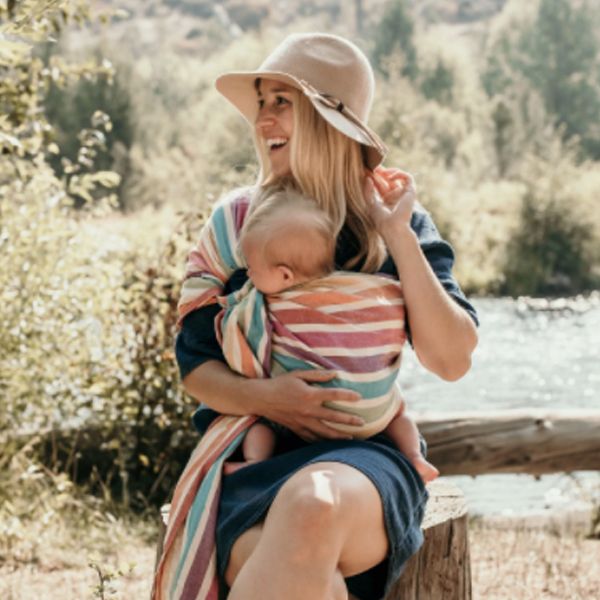 The Hip Baby - Best for Comfort
This one is nice and wide so it doesn't cut into your neck (I'm assuming that's a feature we'd all enjoy) and it actually can go up to 35lbs so you can haul a pretty big kid in it. There are tons of options that are more expensive, but this one is fairly affordable. You can find the Hip Baby on their site.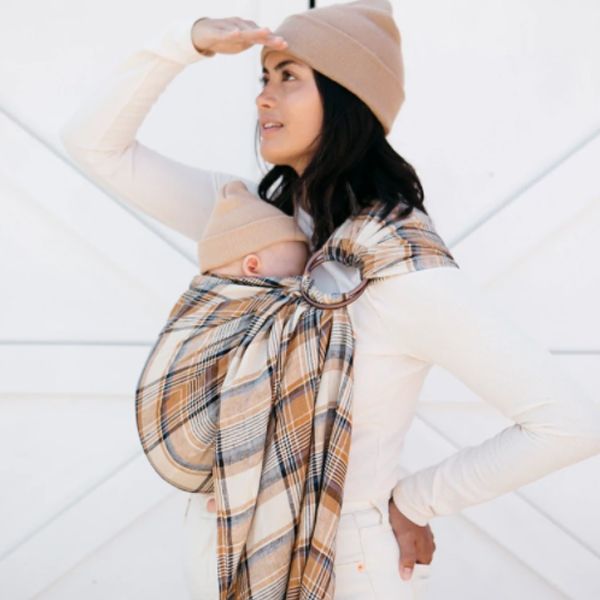 These gorgeous slings are rated for newborns up to 35 pound toddlers, and can be worn on your hip, back, or front. They also have an option to buy secondhand products, making this mom-centric business earth-friendly, too. You can find them on the WildBird site and at Target.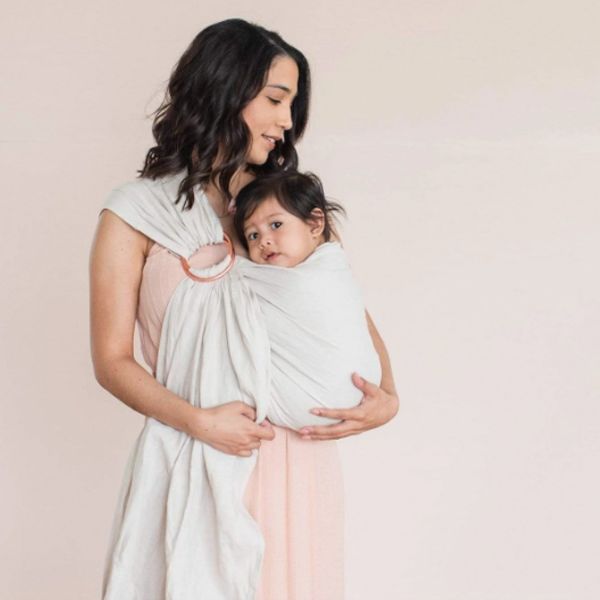 Who doesn't need more pockets in their life? If you want the simplicity of a ring sling, with the added benefit of two storage pockets, this ring sling might be the answer. It's also machine washable and comes in a variety of colors. You can find them on the Kyte Baby site.
Carriers are a really personal thing.
So much depends on how long you want to wear your baby (quick trip grocery shopping or walking around for hours), how willing and confident you are to learn how to customize a fit, and what your budget is like.
That said, there's a reason parents have been strapping their kids to them from the beginning of time; it keeps the baby close and safe, and kids generally love it, so read the reviews and snap one up and always, ALWAYS say 'yes' if someone offers you their carrier – you never know what's going to strike the right chord with you and your baby.
Let me know which one you used and if you liked it or not. Happy hauling!
Our next reco: Shit, I Picked The Wrong Stoller
---
Get posts & giveaway updates delivered right to your inbox
---
---