I often get asked for book recommendations from newly pregnant women – I can only assume it's because they've already read every nook and cranny of Pregnant Chicken (cough).
I actually read quite a few books the first time around and I didn't like many of them (I was lucky to read a cereal box the second time). I found they were either scary, patronizing, or both, and none of them made me feel more prepared for the arrival of my son. Instead, they made me feel completely incompetent and overwhelmed at my inevitable failure as a mother.
So I decided to ask you guys what you thought and you came up with some great ones! They can all be found on Amazon, but don't be shy about rolling up to your local bookstore and relishing in that gloriousness.
I've broken them down into groups starting with pregnancy books and moving on down the timeline. Take a peek and let us know what we should add!
Click to jump to each section
Here are the best books to read when you're expecting a baby: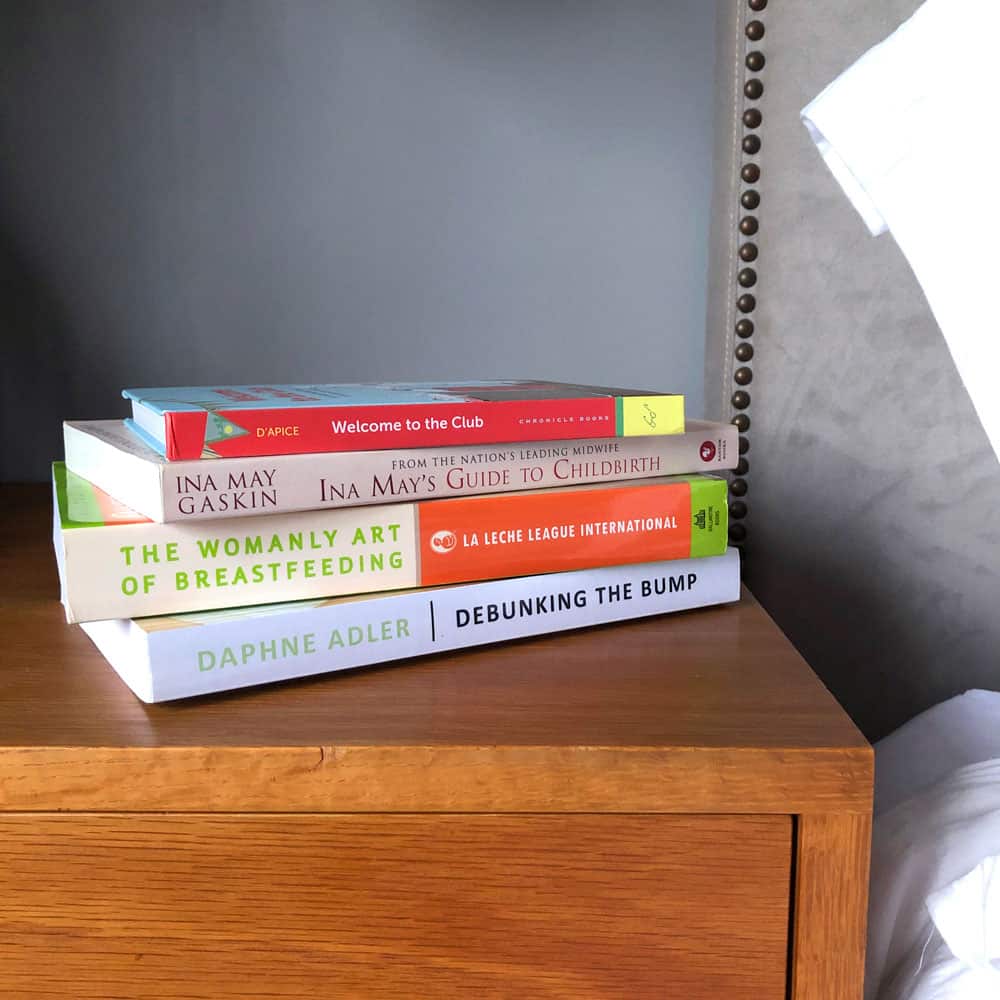 "I Am Woman!" Books
One of my biggest regrets is that I didn't read more birth books. I was going to have a hospital birth and was going to get my epidural as soon as humanly possible so I figured that I didn't need to read up on this hippy stuff. Well, if you run a pregnancy website for a while, you really get to see how fear based this industry is and many of the magazine headlines and website teasers are crafted to get your attention and often scare the shit out of you.
Books like these give you the big picture. These are the books that remind you that women have been giving birth for a long, damn time and our bodies are set up to deliver a baby. Regardless of what your birth plan is, they are a good read.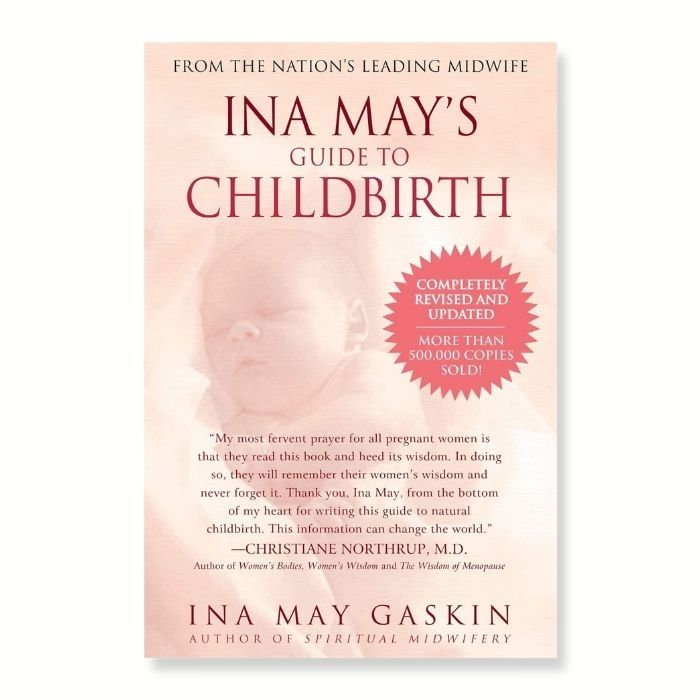 If you've never heard of Ina May Gaskin, she's the Obi Wan of midwifery (I love that word). This lady knows her stuff and has been bringing babies into the world for over 30 years. It's one of the quintessential pregnancy books out there.
"Reading this book will make you feel confident about your body's ability to give birth, as well as positive and excited about the birth experience."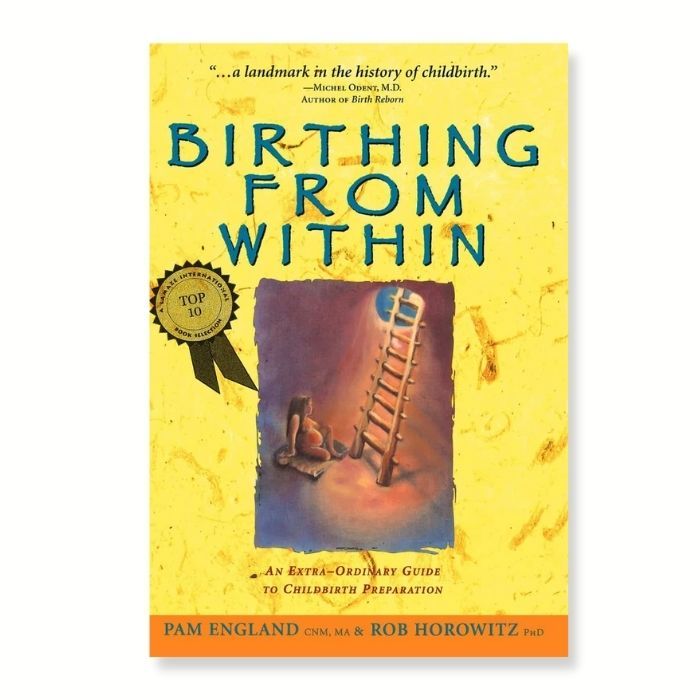 As a designer, the cover of this book gives me diarrhea. As a woman, this book gives me a feeling of real control and empowerment.
"I recommend this book to any expectant mother, no matter what type of birth she intends to have. "Birthing from Within" helps you get in touch with yourself and your expectations, fears, and hopes to allow you to make the birth of your child a very personal and soulful experience."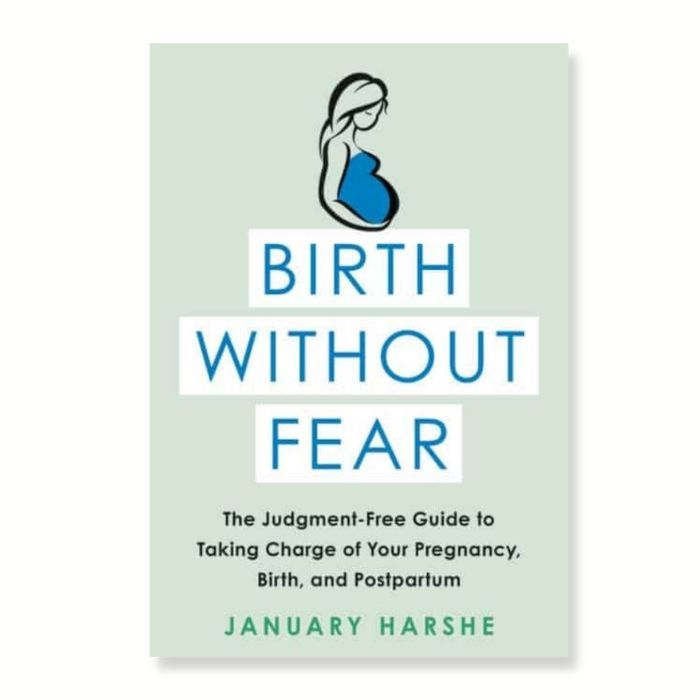 January Harshe is a mother of six and knows how different each mom's birth and postpartum experiences can be. Whether your goal is a home birth, using a midwife or doula, or having a hospital birth with an ob-gyn, this book is all about empowering women to have a voice in their birth and postpartum story, and stresses the importance of respecting everyone's journey, regardless of what it looks like.
"January Harshe's fantastic "you do you boo" attitude is in every single sentence. It's all about deciding for yourself what YOU want, and how to make sure you get the options, support, and respect you deserve."
"Nitty Gritty" Books
The majority of books I read when I was pregnant fall under this category. I wanted to know all the little details because I thought I would feel more prepared when I knew all the facts.
They are great for getting a crash course in birth without having to become an OBGYN, but a word of warning, these books become dated fast (that probably says something too) so if someone gives a book that is over five years old, chances are a portion of it is no longer applicable. They usually have some sort of a symptoms guide, a 40-week pregnancy calendar, and touch on things like nutrition and birth plans.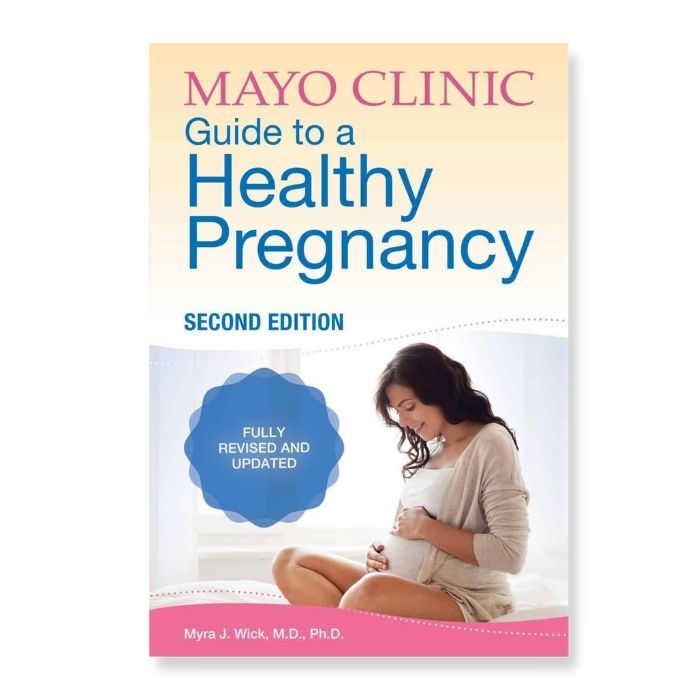 The Mayo Clinic has always been a reliable source for information and this sounds like it's a pretty good read and many women preferred this book to the "What to Expect" series. It's a complete guide to pregnancy, including a week by week guide to baby's growth.
"It is written by trustworthy professionals in clear yet -professional- language, it provides information on "pregnancy, childbirth and your newborn"…"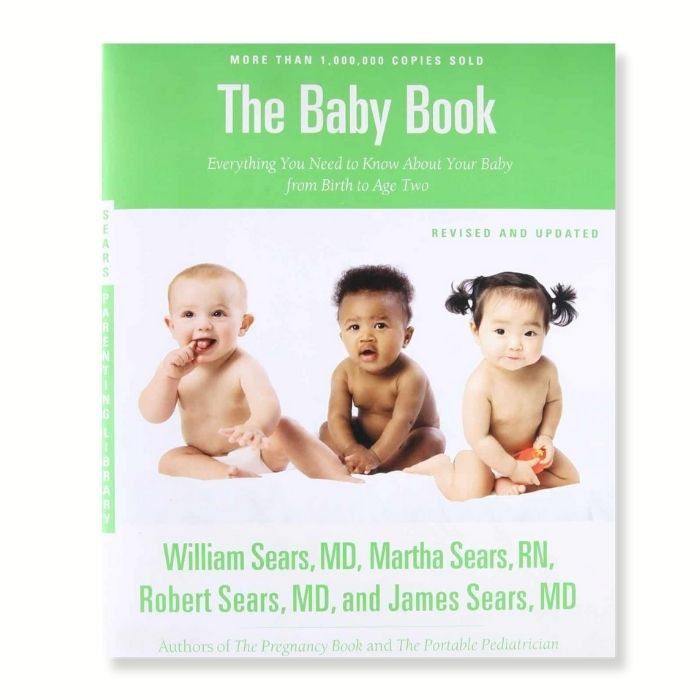 I've always been a big fan of Dr. Sears. Not just because of his hippy leanings, but because of his trust-your-gut philosophy.
"This is such a great reference, but the best advice in the whole book is that what works for you and your family is right for your child."
Feeding Books
This is another area where I wish I'd really known my shit before giving birth. I assumed that breastfeeding would be all easy peasy and I just needed to get the hang of it. Well, sort of. Breastfeeding can be tricky and to add to that pressure, you have a baby that has to eat NOW all the time.
Breastfeeding issues are one of the most popular questions I get, so going in armed with some knowledge is never a bad thing and can really help with a 2 am crisis moment.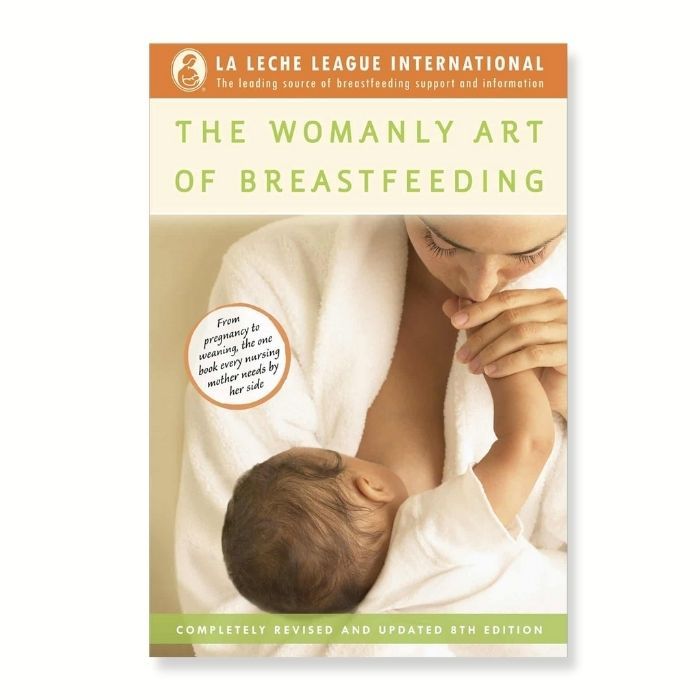 This book is written by the La Leche League so it's going to be pretty pro-boob to say the least, but this is a community that has supported breastfeeding moms and babies for years so they know where the stumbling blocks might be.
"I'm not bf'ing yet, but as an expectant mother I wanted to get some info before trying to deal with it once the baby's here. The book has made me feel very confident. It has all the info you need."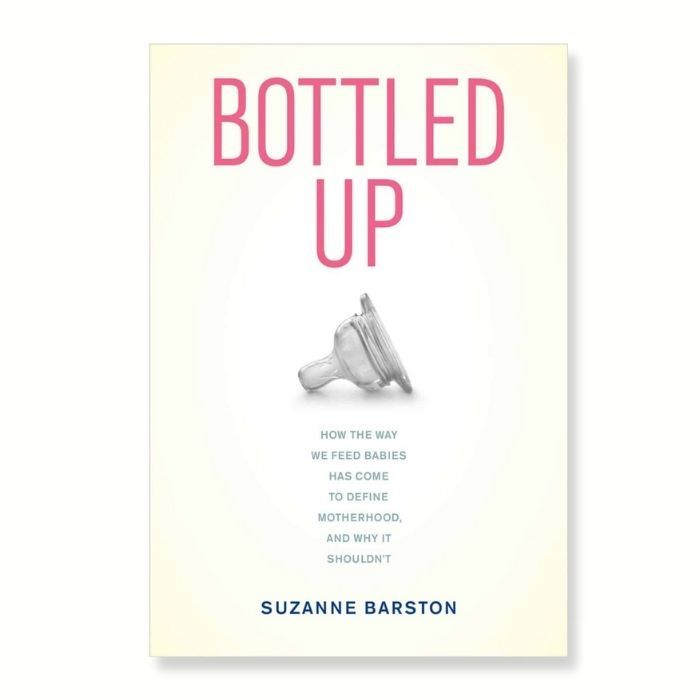 As many new moms with breastfeeding intentions will tell you, that shit just doesn't always go as planned. Unfortunately, many women are left feeling overwhelmed, guilty and ashamed when breastfeeding efforts get thwarted at every turn. Part memoir, part facts and science, this book aims to remind us that there is no one-size-fits-all strategy to feeding our babies.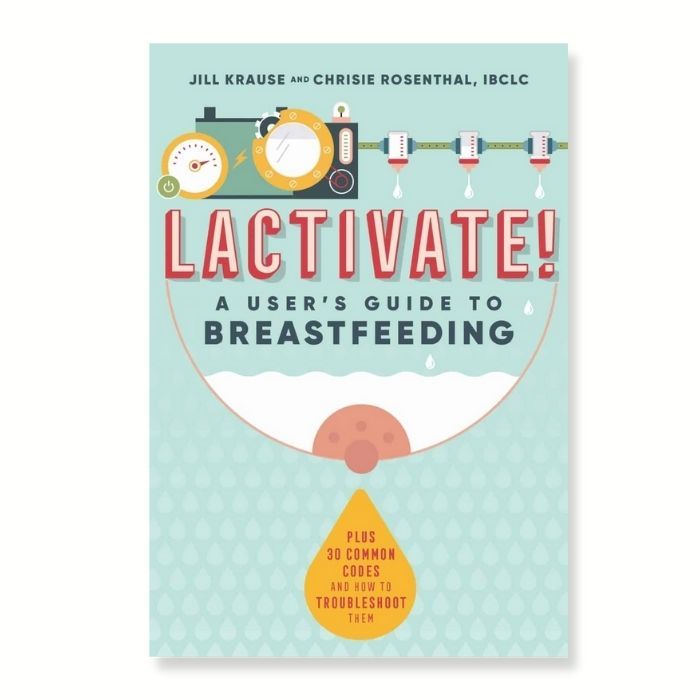 Got questions about breastfeeding? Of course you do. From how-tos to FAQs, this book has a little (actually, a lot) of everything to help you along on the journey of breastfeeding. Get answers to your questions in a judgment-free zone (with handy illustrations!) without having to wait for the next visit to your doctor or lactation specialist.
"I've read a lot of breastfeeding books; this is the first one that is quick, concise, succinct AND informational with scientific support. I love the diagnostics codes – they give you the problem, reasons it might be occurring, and ways to fix the situation based upon science. This is what you want when you're struggling, frustrated, exhausted".
Pregnancy Fact Books
Pregnant women are bombarded by lists of no-nos and "Top 10 Things a Pregnant Woman Should NEVER Do!" because click-bait sells, but if you really want to arm yourself with the facts and risks, these books are awesome.
I love that this doctor has actually stepped up rather than hiding behind all the "just to be on the safe side" crap. Some people criticize him for being too lax about certain topics, but you're a big girl and know what you're comfortable with doing and what you're not.  This pregnancy book provides a refreshing shift in perspective.
"I'm about to be a second-time mommy and I learned an awful lot from this book and found that I avoided sushi for no reason during my last pregnancy! that will not be happening this time around!"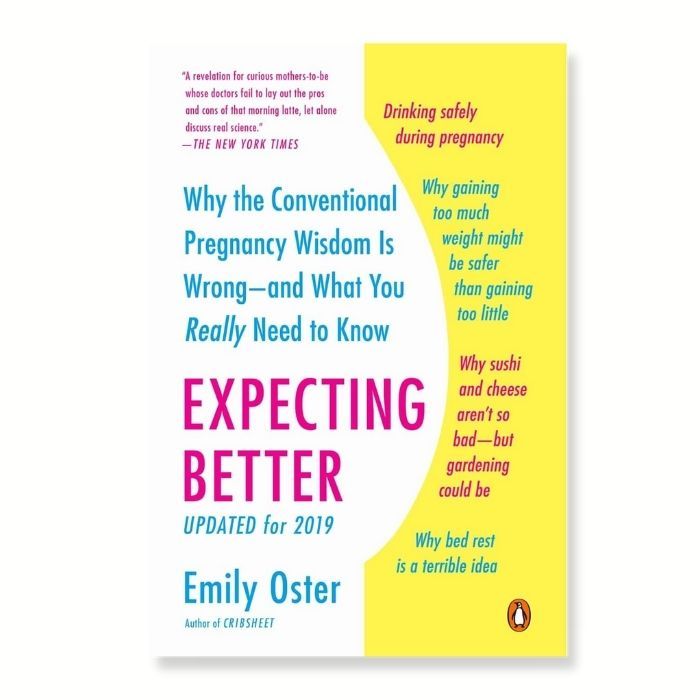 This one takes a deep dive into where conventional pregnancy wisdom is wrong, and what the facts really say about some of the more common myths. I love this book and recommend it to everyone.
"A must-read for any pregnant (or trying to get pregnant) person who wants an advice book that's devoid of preachy rules, but full of information that will enable you to make your own decisions."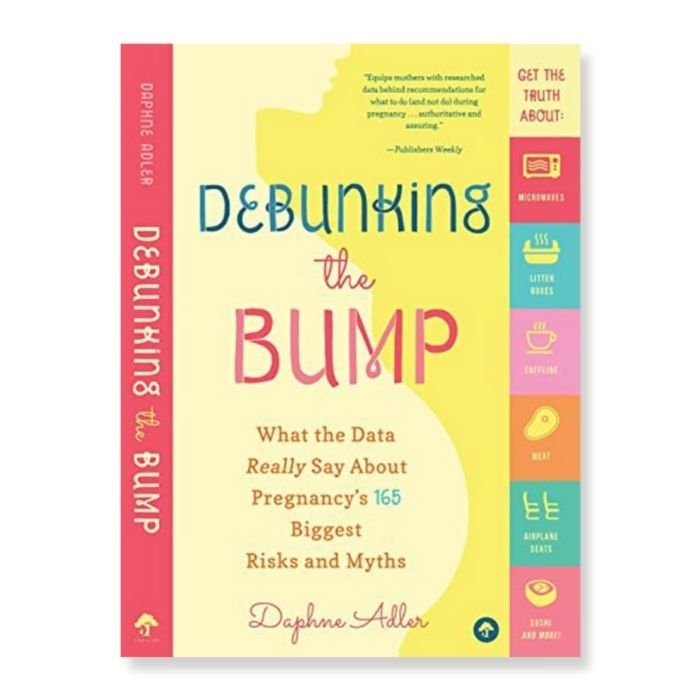 This sucker is filled with practical, actionable recommendations and clear explanations of risks and trade-offs. I love that the author is a numbers freak. This book is truly fascinating.
"This book is necessary. She breaks down the real dangers and gives a realistic assessment of risk. I wish I had this before I was ever pregnant. Even now, it's helping me live a healthier, less paranoid, life."
Funny Books
If you read this site, clearly you are a funny aficionado a have a finely tuned sense of wit and charm – I mean c'mon. So, I'm sure you'll appreciate a little taste of humor in these pregnancy books because, as my accountant says, "If you can't take a joke, don't have kids."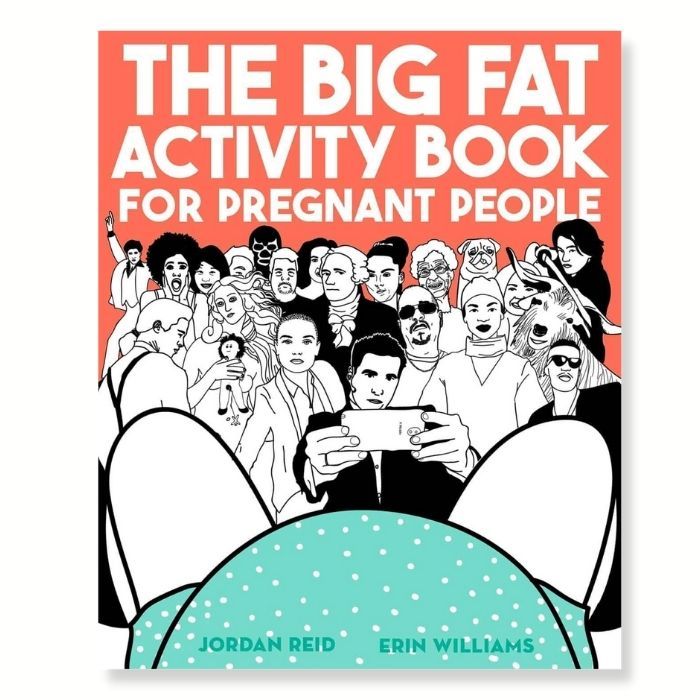 When you hit that stage of pregnancy where you can no longer move either because it physically hurts, or because you just can't be bothered anymore, you're gonna need some distractions. This book is full of fun and hilarious activities to pass the time. There are word finds on topics like bad baby names, lists (like things every pregnant woman ever has asked her OB) coloring pages and quizzes (like Which $1500 stroller is Different?). If you're trying to induce labor, this book will probably have you laughing so hard, the baby will shoot straight out and across the room.
"This book has given my pregnant wife something lighthearted and fun to do while she's stuck at home. I catch her giggling as she completed the puzzles and questionnaires."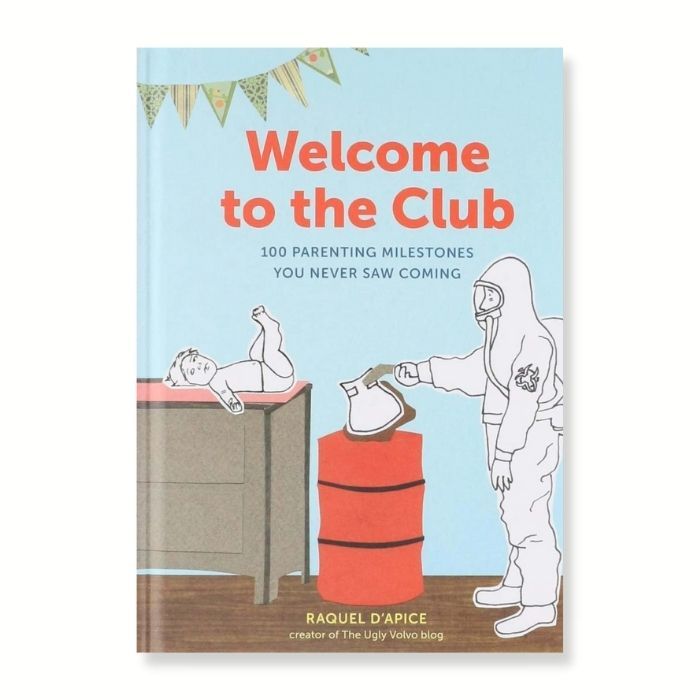 Everybody's seen the traditional milestone books that help to keep track of baby's first smile and baby's first steps. This book helps to immortalize the ones that everyone experiences, but nobody really thinks to record (or likes to admit), like the first time the baby rolls off of the bed. Not only is it hilarious, but it's also a great tool to reassure you that there are a crapload of us out there who have also accidentally taught our babies to say fuck.
"As new parents, we have experienced some of these and will no doubt experience the rest. Very funny and touching. A good, relaxing, and refreshing couple hour read. Uplifting for our sleep deprived hearts and minds."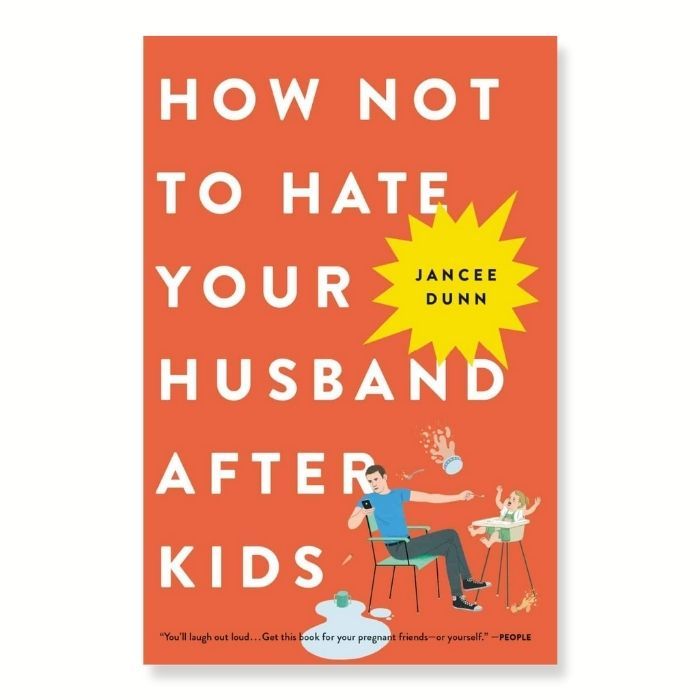 Having a baby can be tough on your marriage. Jancee Dunn shares her personal experience with the frustration and resentment that can come along with shouldering outdated family patterns (i.e. expecting the mother to assume a lot of the traditional household chores and childcare duties while dad gets off the hook.) Her book includes the latest relationship research, input from couples' and sex therapists, fellow parents, and even an FBI hostage negotiator to help you figure out how to restore peace (and love) into your marriage after baby. Spoiler alert: it can be done!
"This book is full of little gems of advice and insight. From division of labor in the home, raising the kids, organization, money, to sex. I found many of the author's stories relatable and humorous. I think the book, at best, gave me useful strategies I can implement in my own life, and at least, gave me validation that I'm not alone in these struggles."
Baby Books
I had all this time read pregnancy books when I was pregnant, but no time to read baby books when I had a baby (go figure). Now the trouble with reading baby books is that, while you may have the time, you don't have a baby. That makes things tricky because the laws of nature ensure that whatever theories you have on babies often go out the window once you have one. I actually read a sleep book when I was pregnant and was all armed with my "shush pat" techniques, but it all went down the tubes when he was born because he wasn't a "shush pat" kid. I would treat these books as little "seed planters" – when the issue arises you'll remember you read something about that and go back and look it up. Like breastfeeding, sleep questions dominate the questions I get, so you may as well wade in now if you have the time.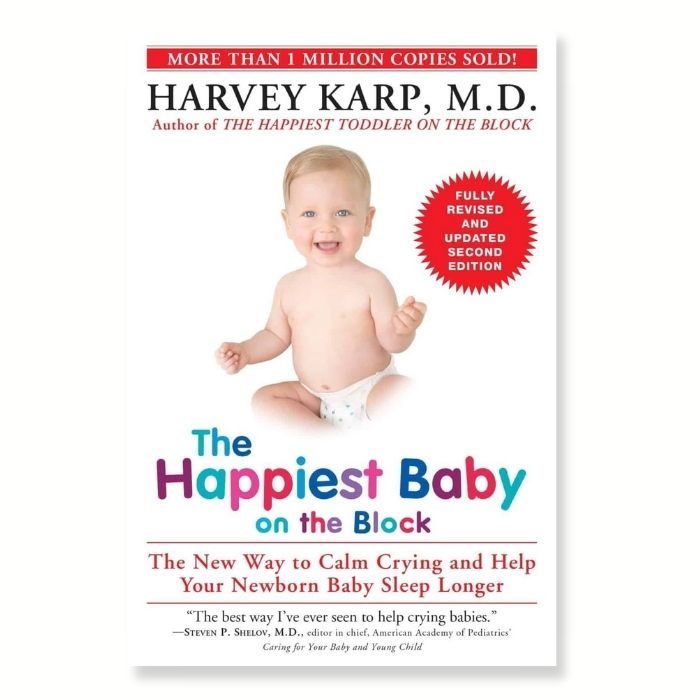 If you've read my What You Need to Know About Newborns post, then you've got a good idea of what this book is about. It kind of decodes the reasons babies cry, which is worth its weight in gold in those first few months. Some say it's a little too wordy – a beefed up 10 page pamphlet to justify the cost of a book – but what are ya gonna do.
"I was skeptical, but these methods really do work! Would make a fantastic baby shower gift and every new parent should read this."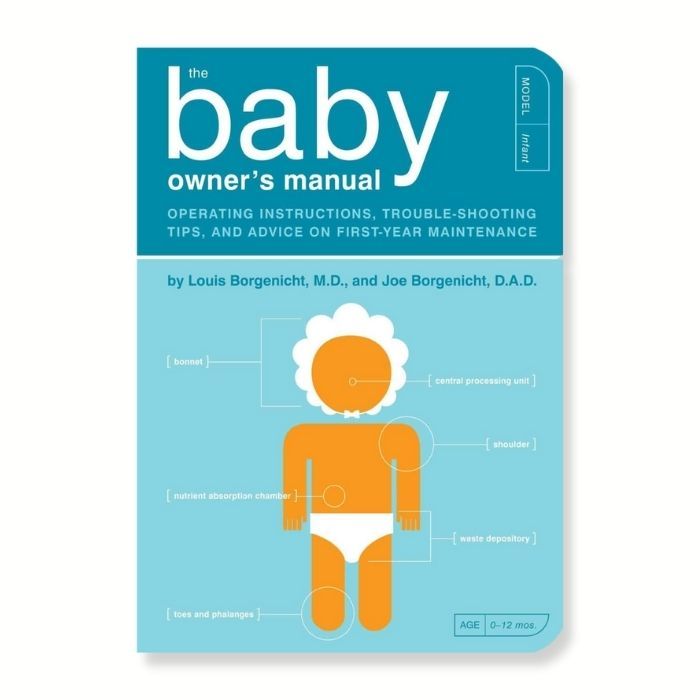 At first glance, this seems like a bit of a gag gift, but it really is an amazing book. I had it with my first son and loved it.
It's easy and quick to fill out and it will save your bacon if you have more than one child because you can look back to see when baby number one rolled over when you're hanging out with baby number two – you think you'll remember but you don't.
"Although this book gives you the same info a lot of others do, this one is shorter and easy to read. Plus the charts and the other fill-in pages in the back are nice if you want to keep track of things."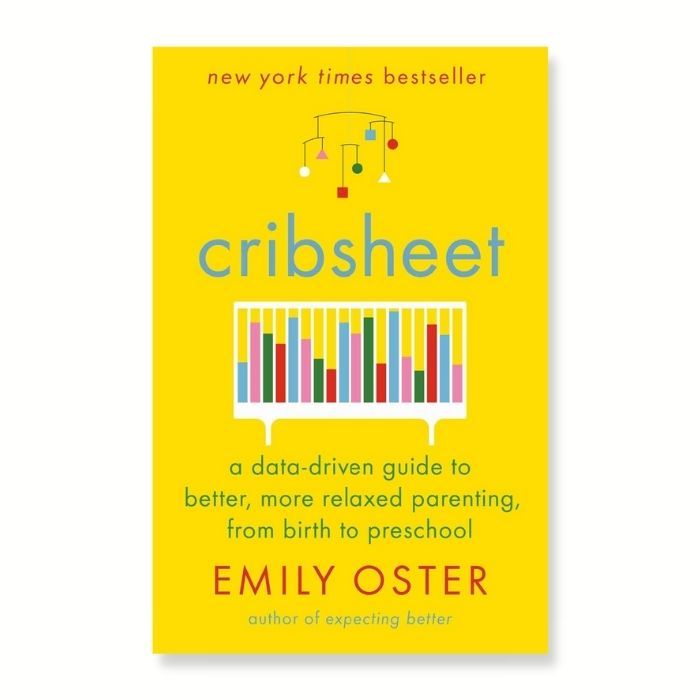 One of the best things about parenthood is that for every piece of advice you'll receive, someone will have at least three reasons to tell you why it's wrong. Oh wait. That's the worst part of parenting. Luckily, Emily Oster has taken on the legwork to find data and statistics to debunk many of the myths you'll hear about important parenting stuff like breastfeeding, sleep training, potty training, language acquisition and more.
"Cribsheet discusses one topic at a time, summarizing the available research and suggesting some factors to consider in personal decision making. It isn't about telling you what you should do, more of a guide to how to go about making your decisions."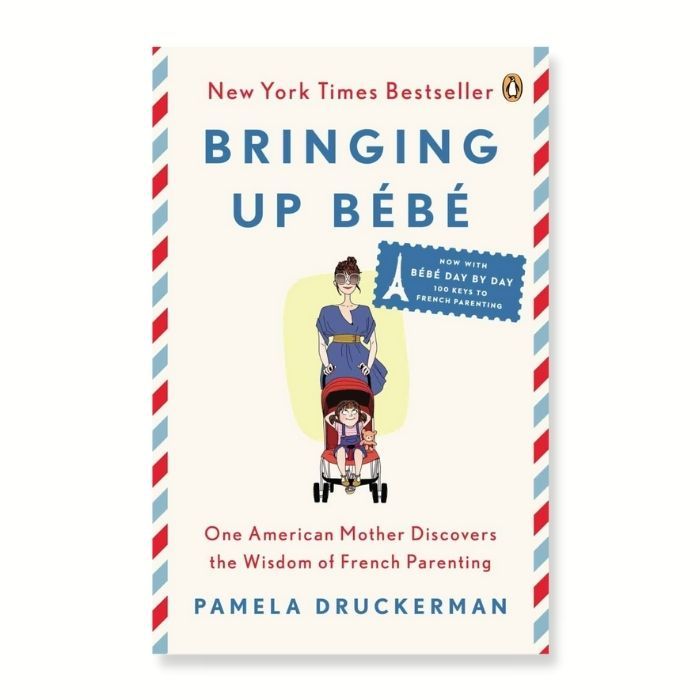 Apparently, the children in France are incredibly well-behaved. We're talking sleeping through the night after a couple months, eating food my kid would instantly spit out if it ever made it past his lips, and entertaining themselves quietly while their parents do grownup shit kind of well-behaved. When the author noticed these majestic behaviors in French children, she started taking notes on why they were so angelic so she could bring some tips back to us desperate souls on the other side of the ocean.
"This is an excellent resource for those looking to raise their child in a more conscious way. It includes specific examples, stories, and steps you can take for helping your child sleep through the night, eat a variety of vegetables, play independently at the playground, show good manners, and more. The book is written in an upbeat and witty manner, making it very interesting to read."
Books for Partners
The pregnancy and birth journey can be a mysterious one when you're not the one growing the baby. Give your partner something to do while you're busy baby making and hand them a book to bring them into the fold and be a more involved part of those 9 months and beyond.
This handy-dandy manual covers pretty much everything your support person needs to know to help you out during labor and delivery. It's for an expectant father, partner, a doula, or anyone else who will be your support person, and includes how to tell when labor's begun, ways to help ease labor pain, and how to actually be helpful during labor. There's also info about breastfeeding, labor care, c-sections, and more.
"I loved the informative style – no personal reflections and crunchy stories, just actual hands on information about normal vaginal birth, possible complications, medications, and interventions. I appreciated suggestions of how to handle each stage of labor for a birth partner and possible emergency actions. I read most of the book myself and made my husband read the part about active labor all the way until delivery, and he felt like he knew what to expect after that."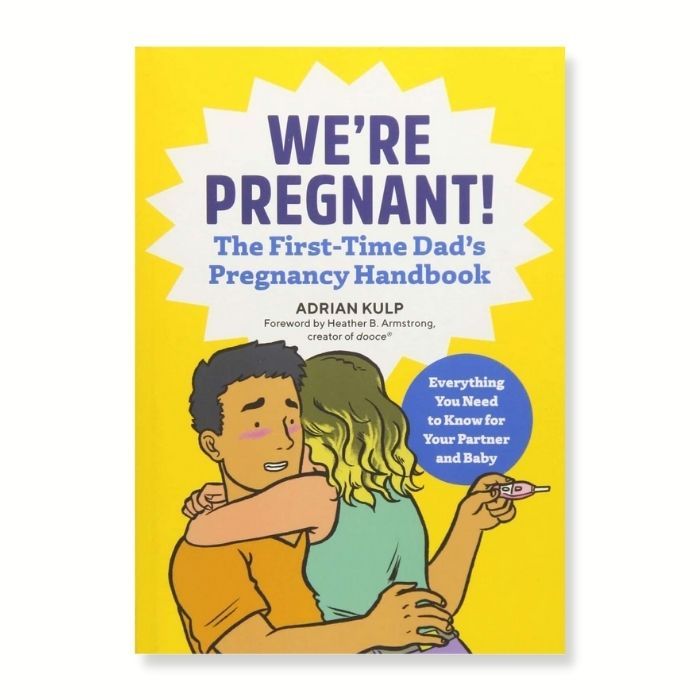 In this dad-centric pregnancy book, you can track weekly milestones and pregnancy vitals, learn important questions to ask, help set family goals, and check out newborn how-tos that'll leave you feeling confident for when baby makes their grand entrance into the world.
"What my husband and I love most about this book is that it doesn't have a sexist overtone. It's not obnoxiously stereotypical like other "dad-to-be" books in that it doesn't assume that every man is a slack-jaw, knuckle-dragging idiot. It's smart and witty. The tone is generally, 'Look, here's what's going on and why. It's going to be scary and fun and you'll do great. Just step up, dude.'"
C-Section Books
If you've got a high-risk pregnancy or are planning to have a C-Section, reading up on the subject may help to put your mind at ease when the big day comes.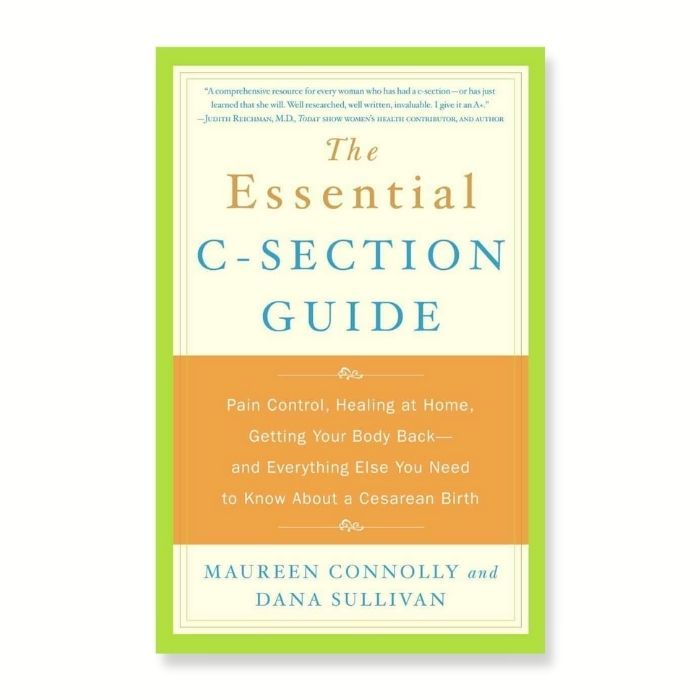 Whether you're planning to have a C-Section or not, the idea can seem a little daunting if you aren't aware of what's involved. This book covers the meat of what you need to know about the surgery, recovery, and considerations for future pregnancies and deliveries.
Best Twin Books
Double the pleasure, double the fun! It's the statement of Doublemint Gum and twin pregnancies (I think). If twin parents don't run in your circle it can be hard to find valuable advice on pregnancy and parenting of two littles at once. Finding a great twin resource can be invaluable in those first days (and let's be honest – probably those first years) of parenthood.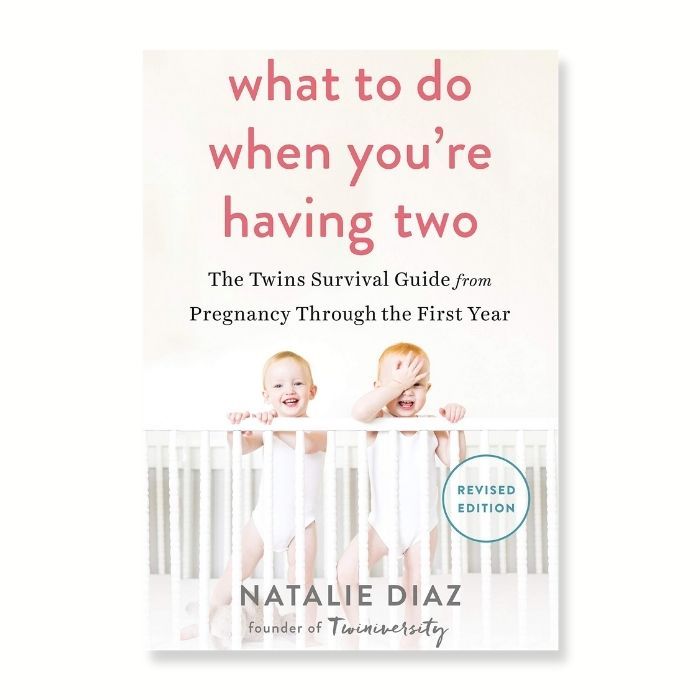 Natalie Diaz is the director of the Manhattan Twins Club and the creator of Twinversity – the #1 global resource and support network for twins. In other words, girlfriend knows her stuff. Diaz has answers to all of your questions, plus the ones you never even thought to ask
"It's my How To Manual as I have navigated this pregnancy and prepare for our twins birth. What's also great is it is an intro in a very active web group where I scour for answers to the new questions that arise daily. I highly recommend the book and getting hooked into Twiniversity".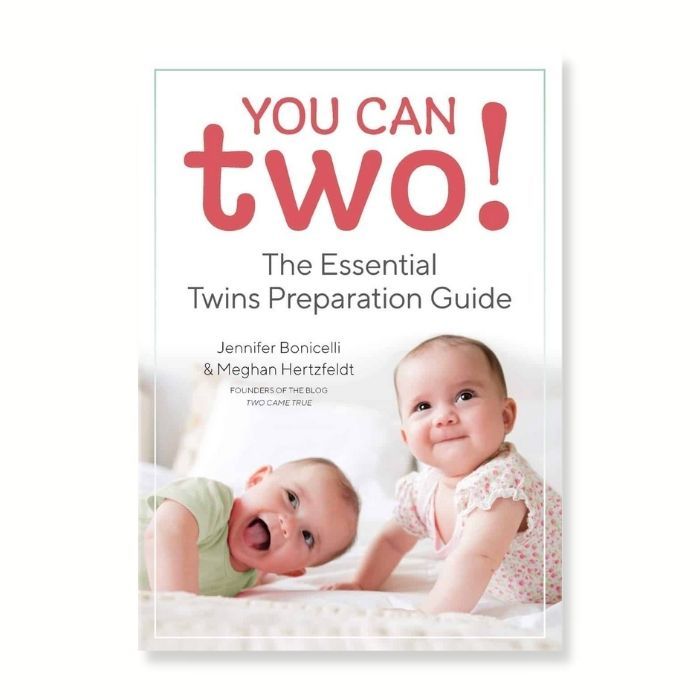 If your recent ultrasound results have left you with twice the questions, this book has tons of great resources, advice and encouragement from parents who've been there. It's got practical tools like checklists, trackers and questions to ask, step-by step prep, and stories from twin parents that'll remind you just how awesome it's gonna be.
"This book is thorough and helpful. It doesn't attempt to duplicate the info that you find in every other baby book, but focuses on the needs of multiples. It is encouraging and practical!"
Maternal Mental Health Books
Maternal mental health is super important, and signs that things are not going well should not be taken lightly. There's a wealth of books out there that hone in on different maternal mental health concerns and seek to reduce the stigma associated with talking about them openly. Of course, books like these are an awesome starting point, but if you are experiencing symptoms of postpartum depression, anxiety, OCD, or anything that feels more than you can handle, be sure to seek professional help from your health care provider.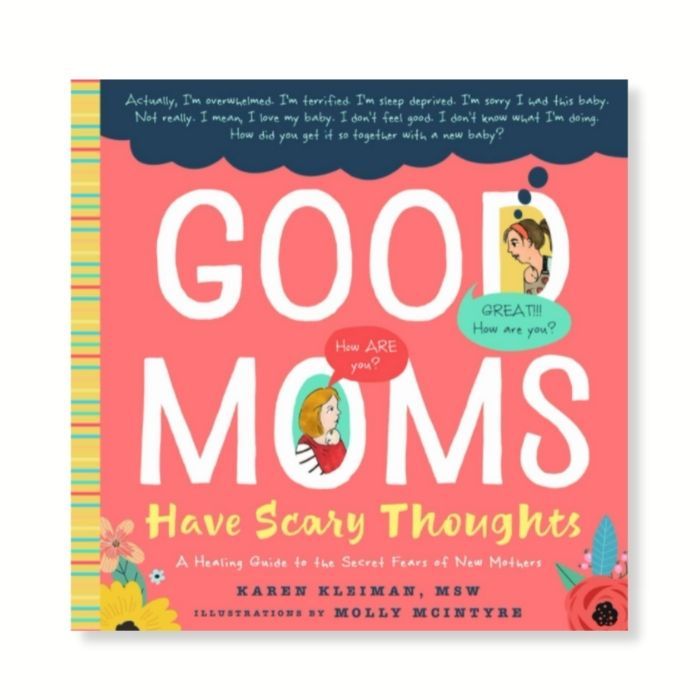 If you're like over 90% of moms out there, you've probably had a random, unwelcome thought about yourself or your baby at least once. This book is filled with guidance, exercises, and even a few cartoons to help empower new moms who are struggling with their fears and feelings. It's really good.
"As a survivor of maternal mental health disorders and an advocate for maternal mental health, this is a book every mom needs. While new moms will especially benefit from the invaluable information in this book, ALL moms will have "aha" moments while reading this book. It does a great job of letting moms know they are not alone in their struggles."
Books For When Pregnancy Doesn't Go As Planned
Unfortunately, 15 to 20% of pregnancies in the US end in miscarriage. It's something we don't like to think about, but it's also something that we need to talk about. The experience of miscarriage can be a devastating and lonely one. Finding a great book that talks about how to get through it can make miscarriage feel less isolating and, over time, a little more manageable.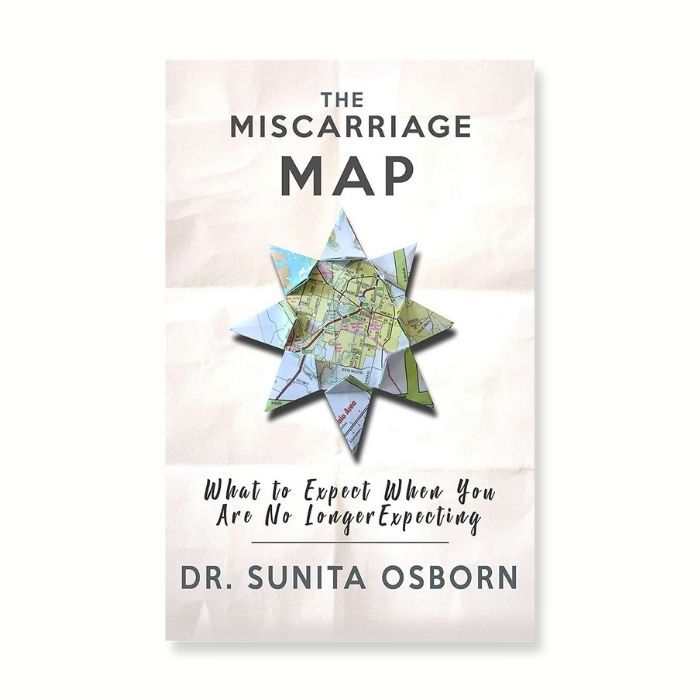 Figuring out how to navigate life after a miscarriage is a tricky beast. The heartbreak that it can leave women, their partners and their families is real and often not talked about. The author brings to light both her personal and clinical experience with miscarriage, offering support, empowerment, and advice to those experiencing pregnancy loss.
"This book captures the REALITY of miscarriage and pregnancy loss, and it gives excellent advice and insight regarding topics such as feelings about pregnant women and baby showers, returning to work, intimacy post-miscarriage, and "what to say vs. what not to say" (among other topics). It is one of the most honest books about miscarriage I have read thus far."
Books For Working Moms
From figuring out how to get everyone ready in the morning to balancing yourself on a toilet seat to pump during your lunch break, the workplace looks a heck of a lot different as a new mom than it ever did before. Although it may seem impossible to navigate at first glance, rest-assured that countless moms out there have done it and rocked the shit out of it, and so can you. Reading up on some of the common questions and concerns that women have before heading back to work can be super helpful in overcoming any anxious feelings you may be having. Oh, and go ahead and shake that working mom guilt off while you're at it – ain't nobody got time for that.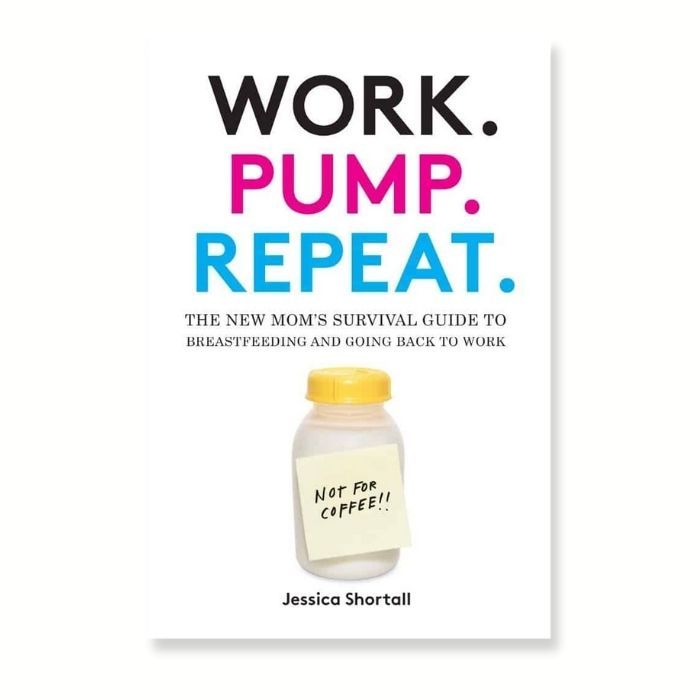 If you're already trying to map out your workplace to figure out just how the hell you're going to find the time and space to pump, Jessica Shortall has some tips, tricks and advice to share in a tone that's encouraging, often humorous, and totally non-judgmental.
"My takeaway from this book was how to get started pumping to feed my baby when I go back to work and then a lot of insight into the emotional and social aspects of pumping and working. There are great tips that I'm sure I will come back and reread when things get tough. I definitely laughed out loud multiple times as well."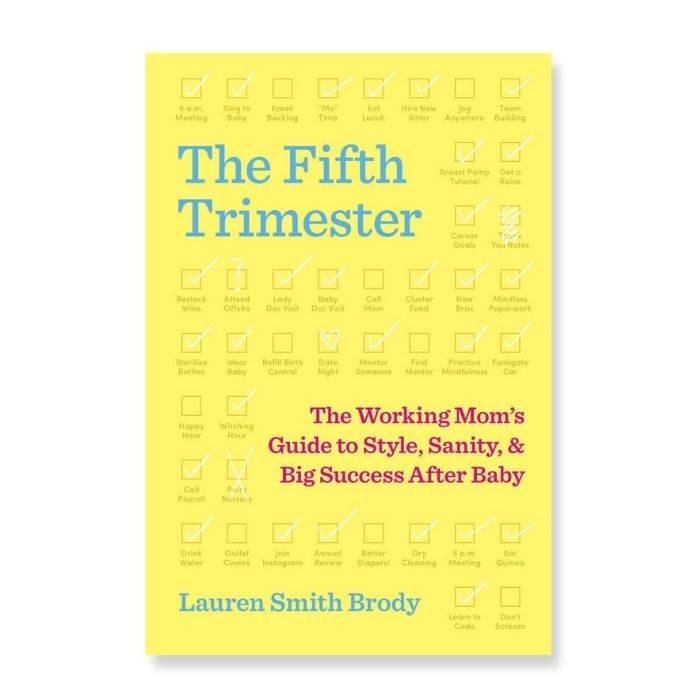 If the idea of heading back to work after baby seems overwhelming at best, grab yourself a copy of this book. Brody has tons of practical, well-researched and easy-to-read tips for returning to work as a mom.
"A thorough, realistic guide to returning to work after your world is turned upside-down by the arrival of your little bundle of joy. Addresses the mental, emotional, and physical challenges of returning to work. While the author's experience is more corporate than mine, I think her advice is useful across virtually all professions."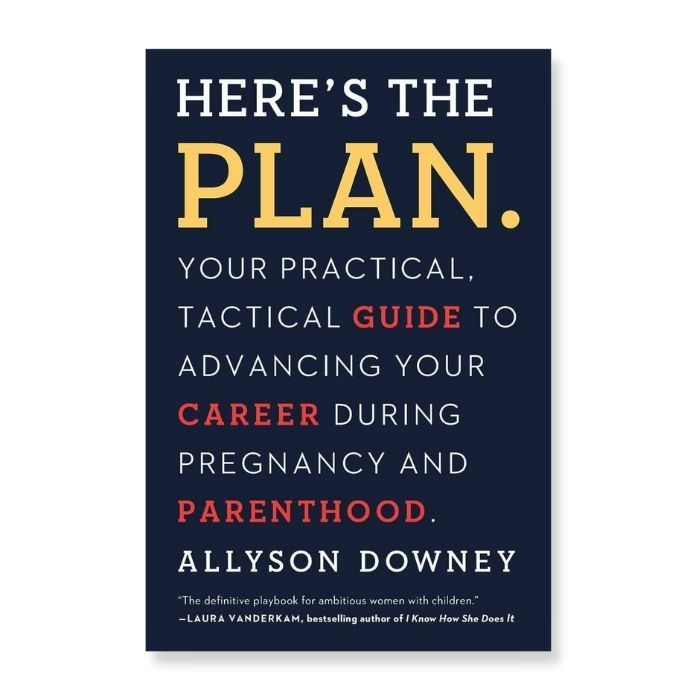 For moms who are passionate about their careers and their families, this book is an awesome map for the sometimes bumpy road that lies ahead. There's a lot of practical shit to consider when juggling babies, bottles and business plans, but it can be done (and by golly, you're gonna do it, you badass mama you).
"I found Downey's experience as an entrepreneur to be really relatable. While the book has MANY tips for moms at larger companies with bigger benefits programs and resources to navigate, it is well balanced with tips for those charting our own paths."
Baby Journals
Even though it feels like you will remember every second of your pregnancy, you won't. Here are some great pregnancy journals that aren't too time consuming or fluffy.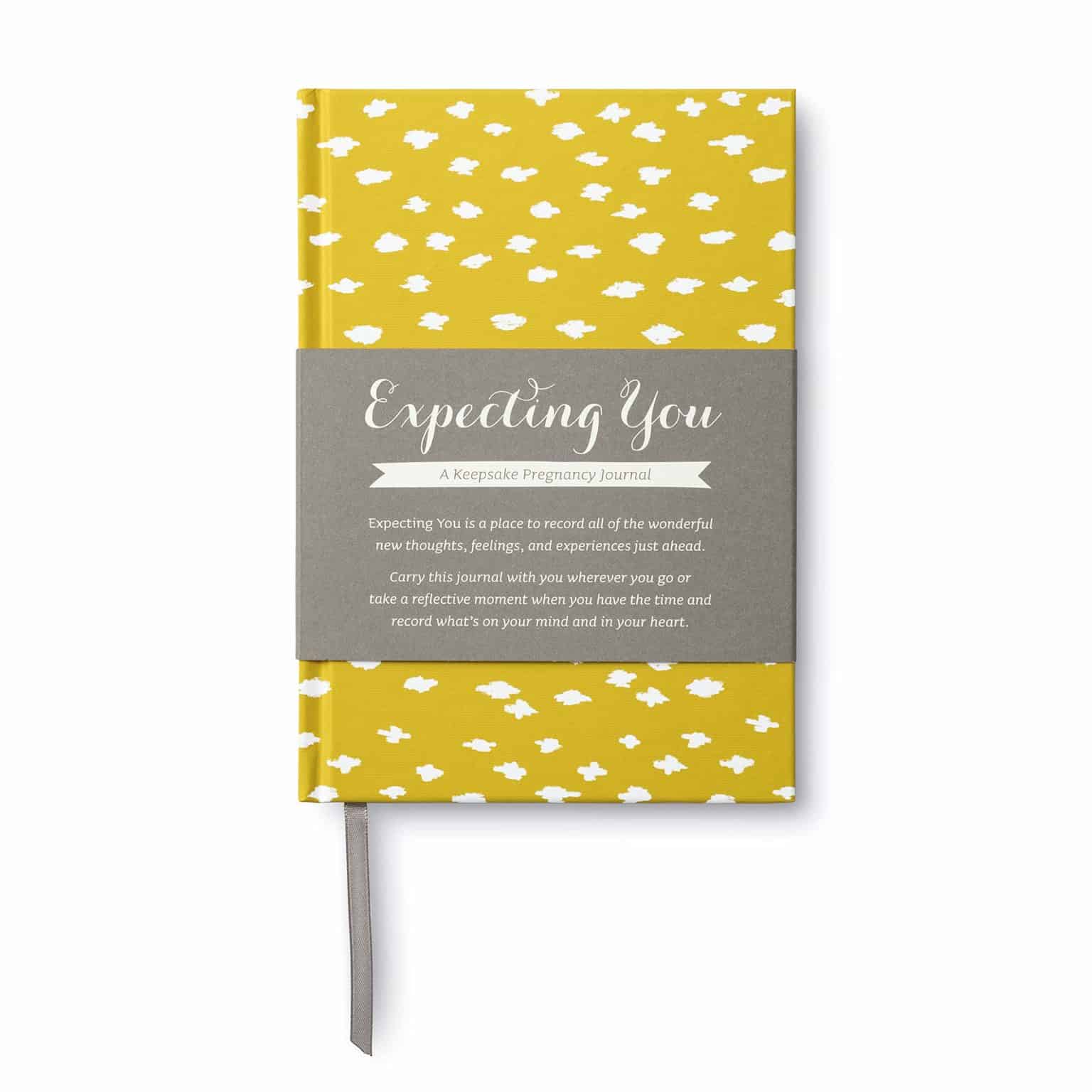 This little pregnancy journal is filled with beautiful graphics and quotes in addition to plenty of writing prompts and pages to record your thoughts, feelings and experiences during pregnancy. This is also a great journal for expecting mamas in a variety of relationship situations because it doesn't include the "daddy" prompts that you typically find in baby journals.
"This journal has the most important questions, facts, and adorable quotes that inspire you throughout your pregnancy. It's a perfect size that fits into my purse and the cover is removable if you want to keep your little blessing a secret for a while, but still journal in public."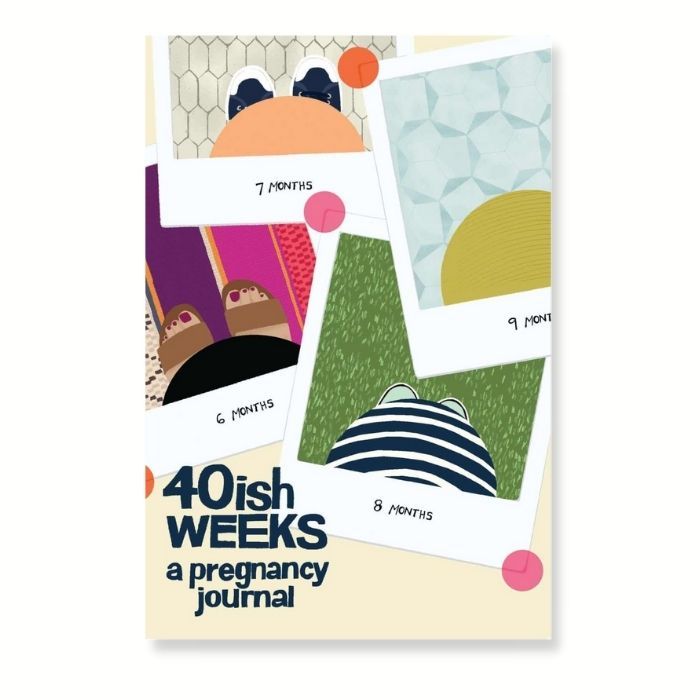 This week by week pregnancy journal features cute illustrations, fun prompts, funny commentary, and plenty of space to write down details about everything from the little pregnancy moments to the big milestones, as well as spots to attach photos. Many women have referred to this journal as "quirky", so if you're looking for a journal that's a bit outside the box, this is a great bet.
"The whimsical artwork and funny comments throughout the journal are my favorite parts. There is plenty of space for writing and tracking weekly progress. It will be a nice keepsake of this pregnancy, which will probably be the easiest part of motherhood."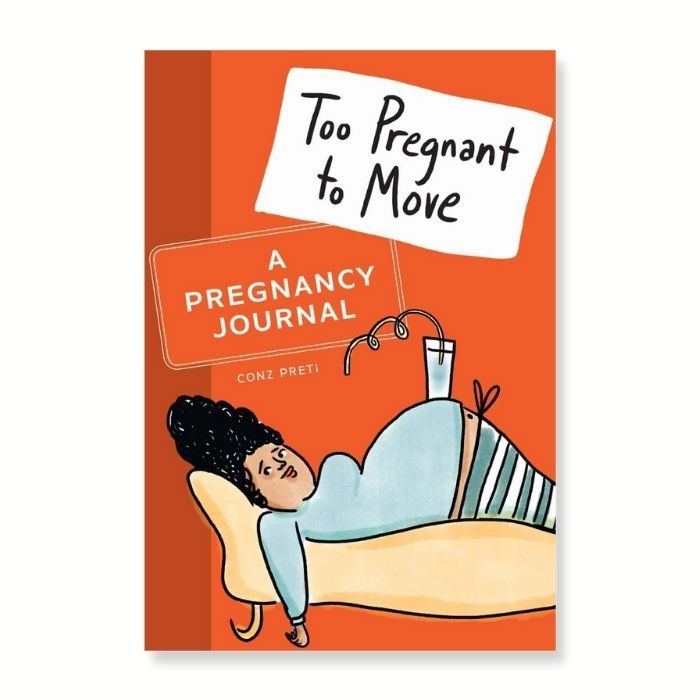 The description of this book couldn't be more perfect: "Write down the weird and wondrous details, so you can look back on pregnancy fondly―or just guilt trip your kid later". In addition to space for you to record all of your pregnancy memories, there's also advice on how to kick each trimester's ass as well as wise and funny musings and words of encouragement and from celeb moms like Kristen Bell and Beyoncé.
"With thoughtful prompts, and space provided to document their own experience, this journal will become a lasting memory of each reader's experience, and a keepsake that moms can one day share with their kids to show them just how much they went through to bring them into this world."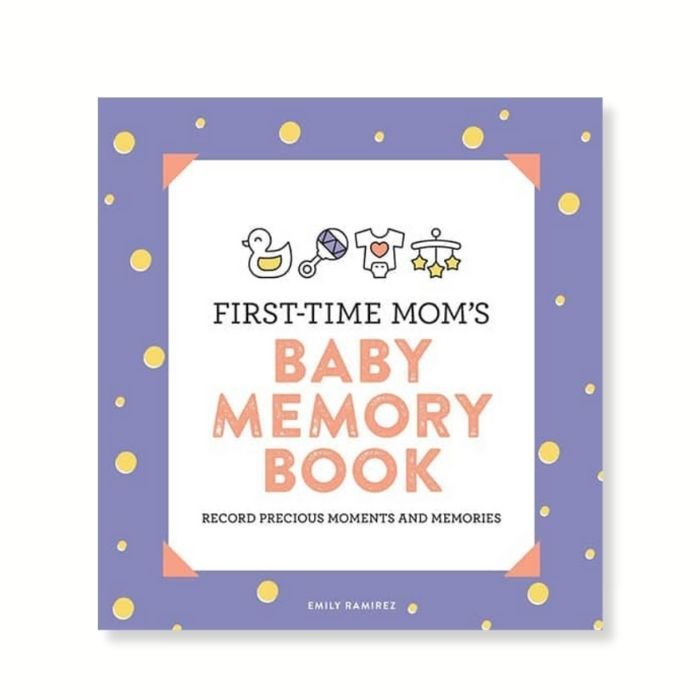 Stay sane as you discover tons of ideas for writing about both your baby and you. This open-ended baby memory book allows you to write about whatever you feel like―or whatever your little one is doing―whenever you want. No stressing that you missed a day because you were too tired!
Awesome Pregnancy Books That I Can't Think of a Category For
Most books fall into a neat category, but some books kind of step away from the crowd which makes them particularly awesome. These are just a few of them.
This book skips all the your-baby-is-the-size-of-a-avocado stuff and answers some of the curious questions around pregnancy, such as: Why are your dreams more vivid? Why do skinny chicks have more daughters? Do fidgety fetuses become feisty babies? Where does maternal instinct come from?
It's the perfect combo of a fascinating, yet easy read, which isn't an easy thing to accomplish in the world of pregnancy books.
"I enjoyed reading this book. lots of interesting scientific stuff and answers to questions even my doctor didn't know. easy to read too"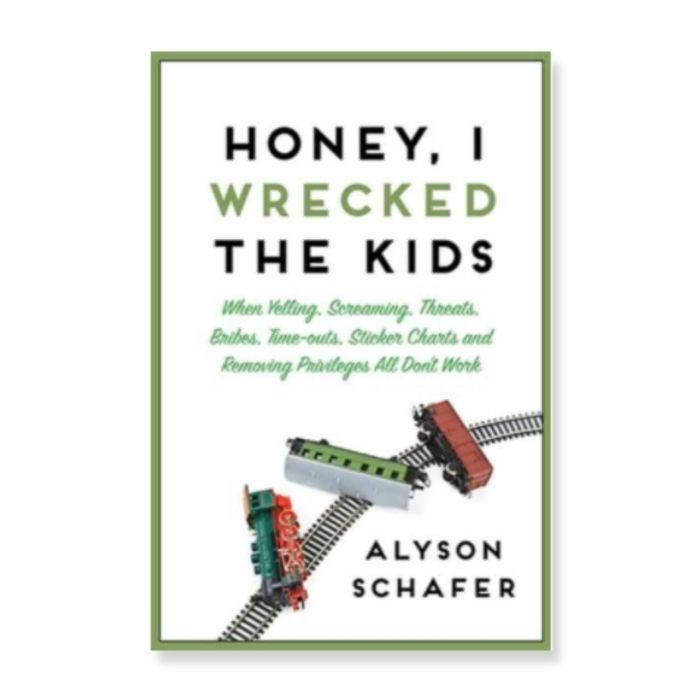 I used to watch Alyson Schafer on TV before I had children and I'd use her tips when I'd babysit because they always worked. So, when I saw this book I decided to pick it up and it's amazing. I wish that I'd read it when my kids were babies (or when I was pregnant) so I would have known how to deal with certain challenges right from the get go. Some may find it a little too child-lead, but I found the book really positive and simple to follow.
"Taking a positive approach to parenting and encouraging my children (as opposed to a focus on punishing misbehavior) is really helping our family."
My final thoughts on pregnancy books
There are tons of great pregnancy books out there but just as many crap ones, so if you find something isn't sitting well with you, ditch it and move on. Reading up on this stuff can make you feel a little more prepared but don't feel like you have to hit the books like you're studying for a physics exam either – this baby is coming whether you read up on it or not. Just read Pregnant Chicken and the Sookie Stackhouse series – that should about cover it too.
Have you read a pregnancy book that you recommend to all your friends?
Let us know in the comments below!
Our next reco: Countdown to Baby Checklist
---
Get posts & giveaway updates delivered right to your inbox
---
---