Baby monitors are great because you can get anything from a basic cheap and cheerful one to a super-surveillance high-tech model that monitors your child's every hope and dream. They're all pretty nice because they give you the option of keeping tabs on your baby while you're in another room – which means you can shower or binge-watch Netflix without worrying about phantom baby cries.
If you're feeling overwhelmed by the options, here's a good way to break it down. You basically have three types to choose from audio, video, and sensor/movement monitors. Here's how they differ:
Audio Monitors
Why They're Great
Audio monitors are generally the most inexpensive – which means they're a great cost-effective option for keeping tabs on your baby. Because they are inexpensive it also means they are a good option for a second monitor if you travel a lot or spend lots of weekends at grandma's.
They're a nice, simple way of knowing when your baby is awake or needs you, without having to over-monitor.
Which Ones Are Popular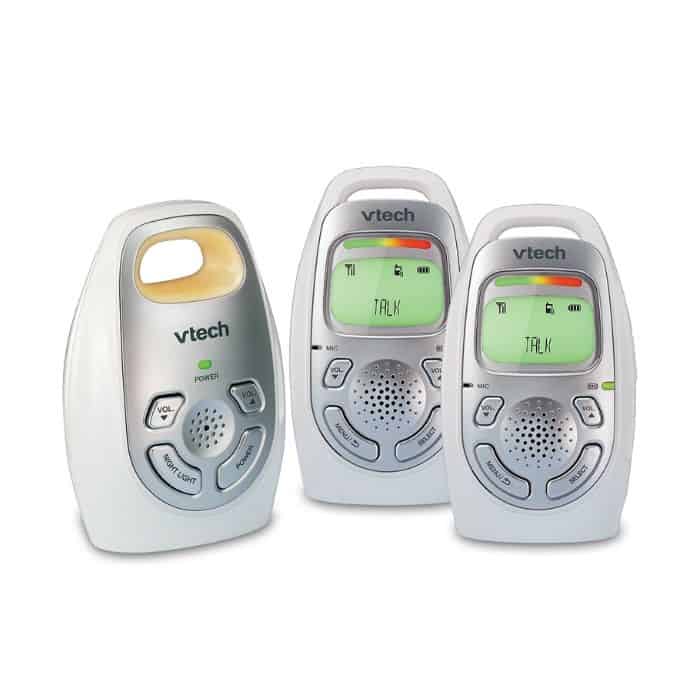 VTech DM223-2 Audio Baby Monitor – This monitor gets good reviews just about everywhere because it's a great budget option with two parent units and extended range. It includes features like vibrating sound alert, two-way talk, a nightlight on the baby unit and super clear audio.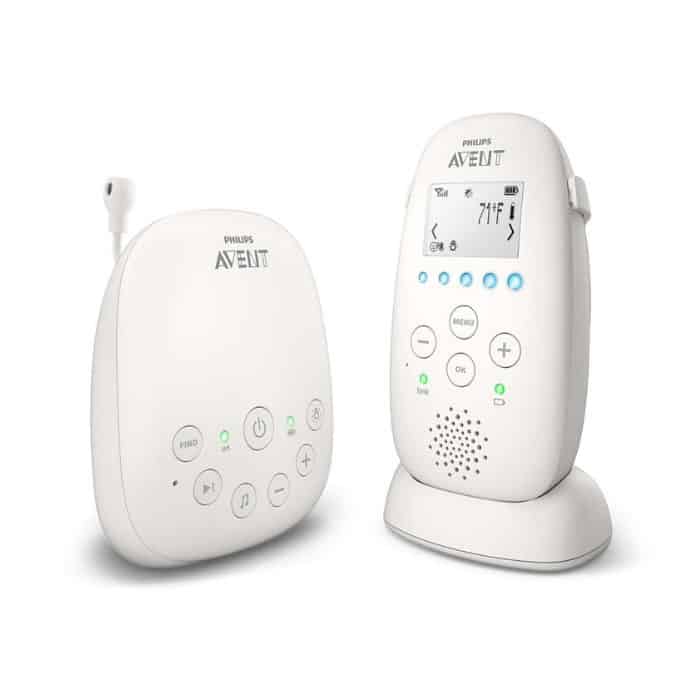 Philips Avent SCD720 DECT Baby monitor – This monitor is a very popular choice because it is hard to find another monitor with better sound or longer battery life.  This monitor also has some great features like a night light, lullabies and two-way walk all designed to be able to soothe baby. As an added bonus it also has a long range and a temperature sensor on the baby unit.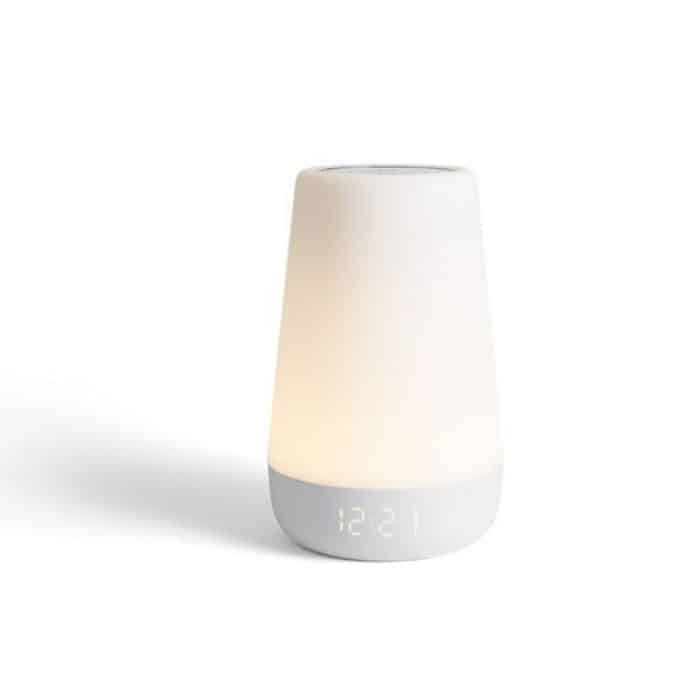 Hatch Rest+ – This sleek little beauty is a monitor that is easy to use and pulls triple duty as a sound machine, night light and audio monitor. This monitor connects to your phone through the Rest app and allows for two-way talk. This Alexa-enabled monitor will also have a lot of uses well past the baby stage like a night light, ok-to-wake function and ability to set a schedule of alarms for your child. You can find out more in our post on it here.
Things to Consider
Sound quality is one of the most important things to look into when choosing an audio monitor. You want a monitor that's clear, easy to hear and has a good volume adjustment.
You'll get the best results by placing the monitor at least 3 feet and up to 10 feet away from your baby's crib.
Range is another key feature. Try to look into indoor range test results to get a good idea of how well it will work.
Sound or voice activation is also a great feature to consider because it means that any background noise is filtered out – so while your baby is quiet, the monitor is quiet. When your kid cries, the monitor turns on right away.
Video/Visual Monitors
Why They're Great
Video monitors are one of the most popular options because they're still relatively affordable and the camera allows you to check on your kid without waking them up with creaky floors and doors.
They're also great because they allow you to see why your baby is crying – which means you can decide whether or not it's worthy of a trip out of your warm bed or if they'll be able to self-soothe.
You can choose between two basic types: Dedicated Video (you have a 'parent unit' – like a mini TV to see your baby in their room) or Wi-Fi (your phone, tablet or computer is used as the parent unit) which lets you check on baby from anywhere.
You have pretty much every extra option under the sun to choose from, including zoom, pan & tilting, two-way speaking, voice/sound activation, extra cameras, night vision and size of the screen.
Which Ones Are Popular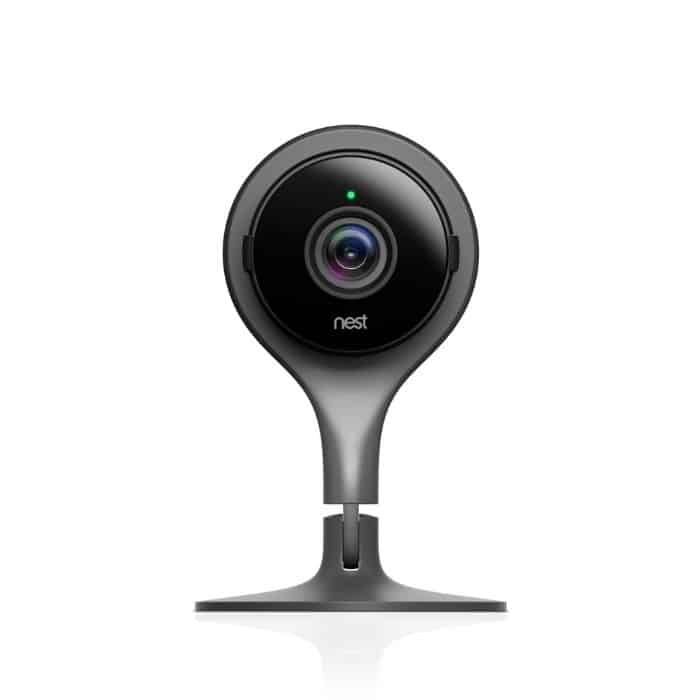 Google Nest Cam Indoor Camera – This fan favorite uses a Wi-Fi connection to stream video to your phone, tablet or computer so you can keep an eye on your little one from pretty much anywhere and it has a variety of long term uses. It's very reliable and has excellent video and sound quality, along with good battery life and infrared LEDs for clear night vision. The thing I like most about it is that it seems to be un-hackable. It really offers strong security – so if you're interested in Wi-Fi options but worried about security, this is your best bet.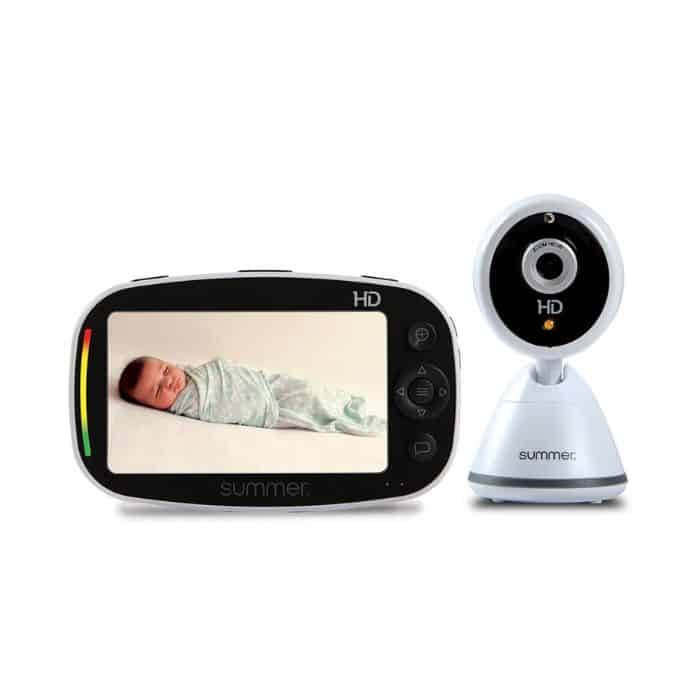 Summer Infant Baby Pixel Zoom HD  – This video monitor is so popular thanks to its very high picture quality and six-level digital zoom that allows you to see baby super close. It also offers a ton of helpful features like night vision, remote pan and tilt steering, two-way talk, room temp monitoring, lullabies and a long range. One of the coolest features on this monitor is the "SleepZone" virtual boundary that can be set around a selected area and alerts you if baby leaves that zone.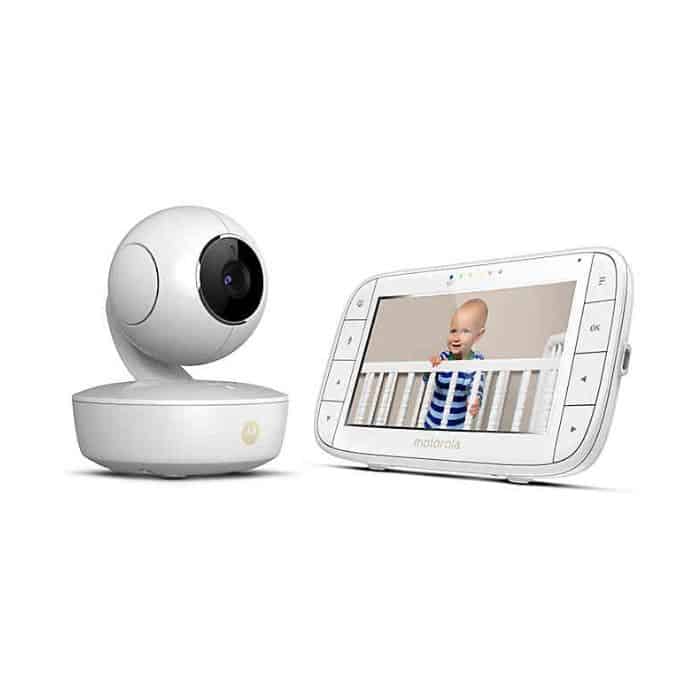 Motorola MBP36XL Video Baby Monitor – offers a long range with pan, tilt and zoom, as well as the ability to add cameras and a split screen function on the large 5" parent unit so you can keep an eye on multiple rooms. And it has two-way talk, room temp monitoring, night vision and you can play 5 different lullabies. Not too shabby!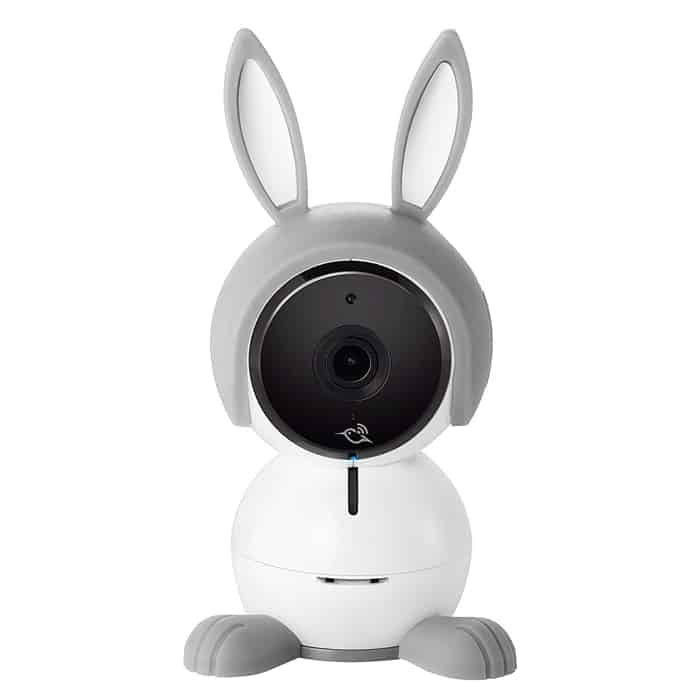 Arlo Baby Monitor  – This cutie of a monitor works via a Wi-Fi connection so you can check on baby or using its two-way talk comfort baby from just about anywhere. It features high video quality, advanced night vision, recorded videos that are saved for 7 days at no cost and if will even work with your Alexa or Google Assistant. This monitor goes above and beyond to also offer temperature and humidity sensors, a night light and plays lullabies.
Things to Consider
Being able to see your baby clearly is definitely key for this category. Clarity of the picture is likely even more important than having a giant display monitor.
Where you put your camera is also something to carefully consider. You want it close enough to your baby so you can see them clearly – but not too close to pose any safety risks. You want to make sure you don't put your monitor within reach of your child so they can't grab the cord.
If you want to use your monitor for a long time, the ability to add extra cameras is something you'll want to think about. With extra cameras, you can monitor multiple rooms or different parts of a larger room – so you can watch your whole crew or just keep tabs on your kid conked out on the floor in the corner of their bedroom.
If you go with a Wi-Fi monitor just remember if you have no Wi-Fi you have no monitor. This option is great because you can check on baby from work or if you are traveling but you need to make sure you have an extra phone or tablet for whoever is home with baby so they can use the monitor as well.
Sensor/Movement Monitors
Why They're Great
These types of monitors keep track of your baby's movement, pulse and heart rate – and alert you to anything serious, like if your baby stops moving or breathing.
Although they're not technically proven to prevent SIDS (no one knows the cause so don't buy anything that says it prevents it), they have the potential to warn you of a risky medical situation, which gives you that peace of mind we're all looking for.
Which Ones Are Popular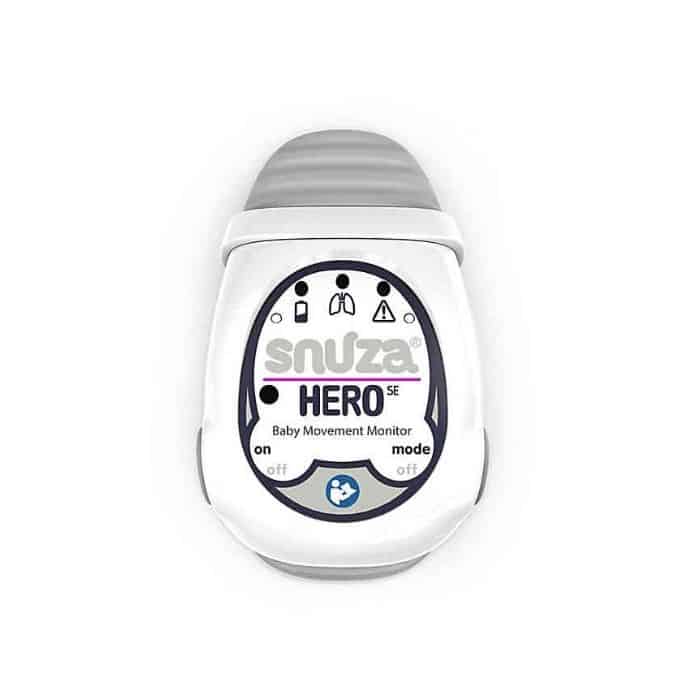 Snuza Hero – These 'diaper clip' monitors clip directly to your baby's diaper and sense movement through a soft sensor that contacts your baby's tummy. These ones are great because they're small and ideal for portability; they feature vibration stimulation as well as an alarm if there's no movement. Plus, parents seem to really love them.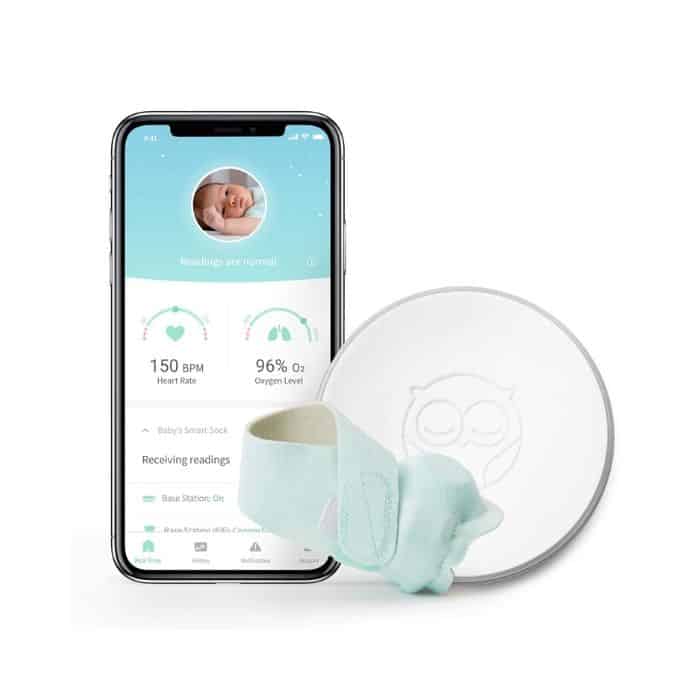 Owlet Smart Sock – The Owlet is cool because it has a soft "Smart Sock" that goes on your baby's foot while they're sleeping and monitors your baby's heart rate and oxygen levels. (You can find my review on it here.) It uses the same technology hospitals use (pulse oximetry) and sends you any alerts to your wireless device or you can view live readings via an app. If you love the Smart Sock you can also add the Owlet Cam which is a Wi-Fi baby monitor that integrates with the Smart Sock for a complete monitoring system.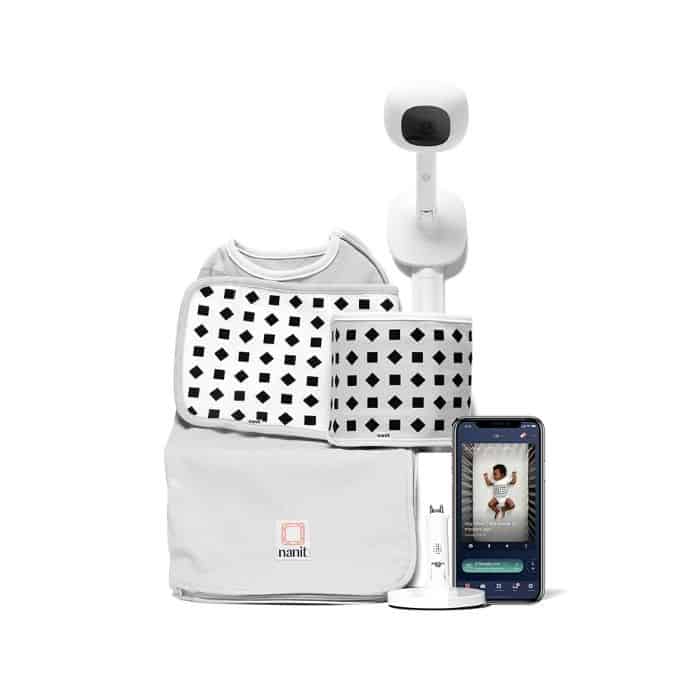 Nanit Complete Monitor System with Breathing Monitor – This complete system includes the popular Nanit video baby monitor that tracks baby sleep as well as the "Breathing Wear" that tracks baby's breathing without any electronics touching baby. The Nanit tracks the pattern on their unique swaddles to detect your baby's breathing pattern and sends alerts to your phone or device when something changes.
Things to Consider
Know your personality with these suckers. Are they going to give you peace of mind or make you nutty?
If you want a portable movement monitor, the diaper clip and pulse oximetry options may be the way to go. They stay with your baby so you can monitor them in a bassinet, swing, co-sleeping, etc.
If your baby is always going to be sleeping in a crib then the sensors pads or smart video monitors may be a better option. You can also use them much longer.
Whew! That's a lot of monitors and we didn't even scratch the surface. Is there a monitor that you love or think should be on the list? Lemme know!
Our next reco: Why Parents Should be Aware of Fake Reviews
---
Get posts & giveaway updates delivered right to your inbox
---
---